Hydrogen, alongside other low carbon energy sources such as wind, solar and biofuels, is set to be a vital component of the energy transition.
Under the Net Zero scenario in the bp Energy Outlook, it is projected to provide around 16% of total final energy consumption by 2050. According to the International Energy Agency (IEA), this is almost equivalent to the role of natural gas today.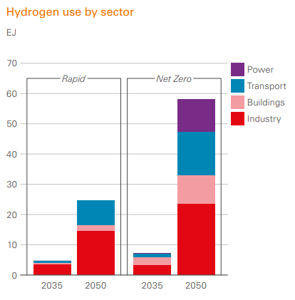 It also represents a major opportunity for the governments and businesses across the world that are committed to the Paris Agreement. The world's collective ability to reach net zero emissions by 2050 will be dependent on finding solutions to the decarbonisation of all areas of the economy. While the industrial and commercial use of hydrogen energy is still nascent, it has enormous potential for decarbonising the most hard-to-abate industries.
In light of this, bp is targeting industries where the switch to electrification will be most difficult. One of these is the industrial sector – where hydrogen will play an important role in decarbonising high-temperature processes or industrial feedstocks; another is the transport sector – where hydrogen provides advantages over battery solutions for heavy-duty, long haul segments of transport, including aviation, shipping and heavy goods vehicles.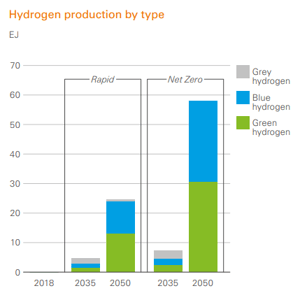 To help fulfil the potential of hydrogen in these areas, bp believes a twin-track approach, involving both green and blue hydrogen, is the best way forward. This approach aligns with bp's Net Zero Scenario, which also forecasts that over 95% of hydrogen will be either green or blue, in broadly equal amounts, by 2050.
Over the coming ten years, bp's core focus will be integrating both green and blue hydrogen across the target value chains of power, industry, and transport solutions in core markets both in Europe and globally.
bp's expertise across the value chain and global network means it can offer a breadth of decarbonisation solutions, as highlighted by the diversified energy path it's taking to reach net zero by 2050.
On hydrogen specifically, bp has been leveraging demand and creating partnerships to develop both green and blue hydrogen projects across the continent. Highlighted below are a number of key projects.
H2Teesside
bp is planning one of the UK's largest blue hydrogen production facilities, called H2Teesside. It targets 1GW of hydrogen production by 2030 and would capture and send for storage approximately two million tonnes of CO₂ per year, equivalent to capturing the emissions from heating one million UK households.
The proposed development would be a significant step in developing bp's hydrogen business and would equate to 20% of the UK Government's target of developing 5GW of hydrogen production by 2030.
Industries in Teesside account for 5.6% of the UK's industrial emissions and the region is home to five of the country's top 25 emitters. The project aims to support jobs and to help regenerate the surrounding area, bolstered by engagement with local communities – like vocational training and university outreach – to establish the region as a clean hydrogen centre of excellence.
The project also complements bp's role of working alongside a range of commercial partners on the Net Zero Teesside Power and Northern Endurance Partnership CCUS projects – all working towards the aim of creating the world's first zero carbon industrial hub by 2030.
Lingen Green Hydrogen
In November last year, bp signed a letter of intent with Ørsted to create a partnership in Germany to jointly develop an industrial-scale electrolyser project for green hydrogen production.
The project will initially replace 20% of the natural gas-based hydrogen used at bp's Lingen refinery and will also mark a significant step in the strategic development of green hydrogen in industry.
GetH2
bp is also partnering with Evonik, Nowega, OGE and RWE to jointly develop the GetH2 project, which will produce green hydrogen and create the first publicly accessible hydrogen infrastructure in Germany.
From 2024, the green hydrogen produced in Lingen will be used to supply the bp refinery in Gelsenkirchen. By using green hydrogen in refineries, in steel production and for other industrial uses, the overall project aims to avoid CO2 emissions of up to 16 million tonnes by 2030.
H2-Fifty Rotterdam
In partnership with Nobian, bp is planning to build the largest green hydrogen plant in northwest Europe at its refinery in Rotterdam. The plant will use offshore wind power to produce 40,000 tonnes of green hydrogen a year and replace current grey hydrogen imports in the Rotterdam refinery.
Partnerships
Yet despite hydrogen's clear potential bp understands that the development of the industry won't be possible without partnerships, and significant collaboration, investment, and support from a favourable regulatory environment.
Partnerships are vital in the low carbon energies space. Each joint venture that bp engages in as an industry helps drive our ability to provide clean and reliable energy, and helps us meet net zero targets while mitigating risk.
The regulatory environment is turning increasingly in favour of clean energy in recent years and bp is hugely supportive of the ambitious targets that governments are setting. Our hope for the future is for a regulatory environment that enables hydrogen to become an even bigger part of the net zero transition.
---