Hydrogen-powered aircraft could be coming to Singapore with a new memorandum of understanding (MoU) signed between Airbus and the Civil Authority of Singapore (CAAS), revealed today (Nov 18).
As part of the agreement, the two companies will study the demand and production supply of alternative aviation fuels, in particular hydrogen, and explore how these could decarbonise the region whilst also studying the implementation of hydrogen into airport infrastructures.
Read more: Airbus unveils three hydrogen-powered aircraft concepts
Read more: Airbus, Plug Power partner in landmark agreement to introduce green hydrogen to airports; US airport to be selected as a first 'Hydrogen Hub' pilot
The first project the two companies will explore is a technical feasibility study of an airport hydrogen hub with infrastructure requirements to support the introduction of future hydrogen-powered aircraft operations.
CAAS said that this will include the production, storage and distribution of hydrogen, aircraft ground services, logistical equipment, as well as refuelling systems to create a dynamic ecosystem for hydrogen.
This study will commence in early 2922 and run for two years as the regions gears up for the introduction of hydrogen with the outcome set to inform policymaking, infrastructure planning and industry development.
Han Kok Juan, Director-General of Civil Authority of Singapore, said, "Decarbonisation is a key priority for international aviation. Recovery from the COVID-19 pandemic will not be a return to business-as-usual but an opportunity to rebuild an aviation sector that is more sustainable.
"It is not a question of whether but of how to make flying greener and developing concrete pathways to achieve that goal while ensuring that air travel is still accessible. Making sustainable aviation viable requires cross-sectoral collaboration to reinvent the entire eco-system and close partnership between the public and private sectors.
"The CAAS-Airbus collaboration serves as an important pathfinder to better understand the opportunities and challenges and to build new networks of stakeholders for a sustainable aviation sector."
Sabine Klauke, Chief Technical Officer of Airbus, said, "Airbus is committed to leading the decarbonisation of the aviation sector and aims to deliver the world's first zero-emission commercial aircraft by 2035.
"The decarbonisation of our industry requires a combination of approaches, hydrogen being one of them, and will need unprecedented cross-sector collaboration to create the new aviation infrastructure ecosystem. We are therefore pleased to have CAAS as a partner, as we embark on this exciting journey."
A seismic shift for aviation: Airbus sets its sights on hydrogen powering the future of aircraft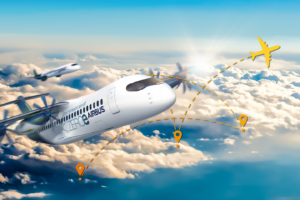 Representing approximately 2.5% of global greenhouse gas emissions, the aviation industry is in need of a disruptive change to its 'business as usual' if it is to meet its net zero objectives by 2050. One energy carrier emerging as a game-changing contender in the transformation of the sector is hydrogen, and Airbus is ready to be the catalyst for change.
With a 50-year track record of innovation, technological firsts and industry milestones, the designer and manufacturer of aerospace products, services and solutions to a customer base worldwide has indeed been 'making it fly' since the 1960s. In 1972, Airbus' first aircraft, and the world's first wide-body twin-aisle commercial aircraft, the A300B, performed its maiden flight, which at the time signalled the first steps towards changing the face of modern aviation. And Airbus is once again set to transform flight.
Want to continue reading? Click here.