Aker Clean Hydrogen, CapeOmega and A/S Norske Shell have joined forces to develop a large-scale hydrogen production facility using natural gas in Norway.
Having signed a Memorandum of Understanding (MoU) today (July 12), the trio will look to develop the plant from the local gas processing plant at Nyhamna, Norway.
Shell is the operator of the Ormen Lange gas field on the Norwegian continental shelf and Technical Service Provider at the gas plant at Nyhamna in Aukra.
With the development of the new hydrogen site, it is hoped that hydrogen can decarbonise local industrial processes, provide emission-free fuel for sea and road transport, as well as being exported to European hydrogen customers.
On the commitment, Knut Nyborg, CEO of Aker Clean Hydrogen, said, "This is an important milestone for us.
"I'm very happy to have Shell onboard as a partner together with CapeOmega on this project, as all three partners have a strong connection to the Nyhamna terminal, and together we have got what it takes to develop, build and operate the Aukra Hydrogen Hub safely and cost-efficiently."
Earlier this year Aker Clean Hydrogen and Aukra municipality entered into a cooperation agreement granting Aker Clean Hydrogen exclusive rights to explore and develop a project for production of hydrogen, ammonia, and related products in Aukra.
Later, in June, Aker Clean Hydrogen and CapeOmega entered into a MoU to explore the opportunity to develop the Aukra Hydrogen Hub.
Marianne Olsnes, Managing Director of A/S Norske Shell, added, "Shell's target is to become a net-zero emissions energy business by 2050.
"Joining forces with Aker Clean Hydrogen and CapeOmega to work on the exciting opportunities within the Aukra hydrogen hub is a natural step on our path towards reaching our target."
Shell Hydrogen exclusive: We have to throw absolutely everything at it
Want to learn more about Shell's perspective on hydrogen? Rob Cockerill, Managing Editor of H2 View, spoke with Oliver Bishop, General Manager at Shell Hydrogen.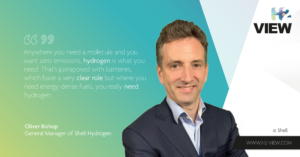 For some determined detractors, an inherent cynicism is often directed at heavyweight energy companies like Royal Dutch Shell. It has held back in the pursuit of clean energies for years, some might say; it's still far too rooted in oil and gas; it's only making blue-chip statements about clean fuels now that the topic is trending in the public eye. 
Over-analysis of group financial disclosures can furnish any argument about Shell's level of spend in clean energies. Likewise, anyone can lazily criticise the company for a perceived unwavering commitment to fossil fuels; they are of course the axes upon which the global economy currently turns, and those same energy companies have a demand to fill.
Want to continue reading? Click here.