With decarbonisation key to ArcelorMittal's goals, the company has joined Bill Gates' Breakthrough Energy Catalyst programme which includes green hydrogen as a key pillar.
The Catalyst project, which hopes to bring together public and private sectors in utilising hydrogen and other low-emission technologies, has become the vector for Bill Gates' efforts and ambitions in relation to decarbonisation.
Read more: Bill Gates commits $1.5bn for clean technologies including hydrogen
Read more: ArcelorMittal commits to hydrogen
The project will initially focus on four decarbonisation technologies: direct air capture (DAC), green hydrogen, long-duration energy storage (LDS), and sustainable aviation fuel (SAF).
ArcelorMittal has already made several commitments to using hydrogen in its operations and now joins Breakthrough Energy to help enhance the collective reach of zero-emission technologies such as hydrogen.
This will support the collective aim to decarbonise the world.
Aditya Mittal, CEO of ArcelorMittal, said, "The Catalyst program is innovative and necessary. It brings together public and private finance with the objective of fast-tracking the deployment of projects which can deliver significant carbon reduction. For ArcelorMittal and the steel industry this kind of initiative is critically important.
"The steel industry knows how to decarbonise – essentially what is missing is the availability of clean energy at competitive prices that provides the foundation for us to really accelerate.
"That's why, after discussing the purpose of Catalyst with Bill, we were very happy to join as an anchor partner. Achieving net zero by 2050 needs a coordinated global drive the likes of which the world has never seen before.
"There are so many interesting new companies and technologies that will help the world decarbonise – through both our XCarb™ fund and now Breakthrough Energy Catalyst we look forward to helping these companies accelerate their contribution."
Bill Gates, Founder of Breakthrough Energy, said, "Avoiding a climate disaster will require a new industrial revolution. We need to make the technologies and products that don't cause emissions as cheap as those that do, so the whole world can afford them and reach our climate goals.
"Through Catalyst, leaders from across the private and public sectors are coming together to focus on supporting technologies that are vital to the world reaching net-zero emissions but are currently too expensive to be adopted at scale.
"By coordinating investments and directing them toward these critical technologies, we can reduce their Green Premiums and help them get to market faster, so we can all reach our climate goals."
US DOE, General Motors, Microsoft and Plug Power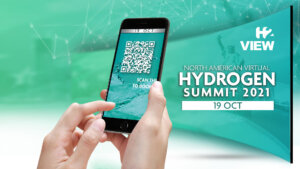 What does the US Department of Energy (DOE), General Motors, Microsoft and Plug Power have in common? They're all speaking at H2 View's North American Virtual Hydrogen Event in October. Will you be joining us on October 19?
North America is in a prime position to lead efforts in decarbonisation, but it still has great distances to travel. The region has been giving chase in a race to green hydrogen dominated by Europe and Asia-Pacific. If policymakers and industry can work together and take the right steps to realise a hydrogen vision, the region is perfectly placed to expand its global energy leadership at scale and speed.
What lessons can be learned from Europe's policymakers? What are the challenges to be overcome? What are the strengths and opportunities? How can North America go from giving chase to taking a lead in hydrogen? These are all questions our virtual event will address across H2 View's four pillars of Mobility, Power, Policy and Technology.
Further information on the event, agenda and confirmed speakers can be found here.
To book your virtual delegate pass, click here.