As part of what is believed to be a first for Australia, Transit Systems has purchased hydrogen buses to service public transport contracts in the country.
Such news was confirmed today (4th May) by the SeaLink Travel Group company, which said the two ordered Foton buses would likely go into service by mid-year.
Read more: Foton Mobility to deliver hydrogen buses in Australia
Commenting on the purchase, Clint Feuerherdt, CEO of the SeaLink Travel Group, said, "We are proudly setting the global benchmark for exploring and trialling different technologies to find and develop solutions with our key industry partners that suit the dynamic and complex operating conditions within the Australian public transport landscape.
"We don't just have a willingness to adapt, but a desire to lead – and we're proud to deliver innovative solutions to Australian streets and beyond, which broadcast a range of benefits into manufacturing and other industries."
He continued, "We are procuring and delivering these buses with the expectation and knowledge that future buses will be built here, with our partners at Foton Mobility, part of the Australian owned True Green Mobility Group."
Luke Todd, CEO of True Green Mobility Group, has commended Transit Systems on their vision to work with government partners and deliver sustainable solutions to the market.
"Transit Systems has delivered another first to the Australian public transport sector, and we're incredibly proud to partner with them and drive innovation and sustainability forward," he said.
"Being leaders in hydrogen development, the buses that will be deployed in Australia are of the highest quality with best-in-class Toyota fuel cells. The buses are extremely quiet, with zero tailpipe emissions."
How to fast track Australia's hydrogen industry
Did you know Dr. Fiona Simon, CEO of the Australian Hydrogen Council, writes exclusive bio-monthly columns for H2 View? In this piece from December (2020), Simon deeply explores Australia's hydrogen opportunity: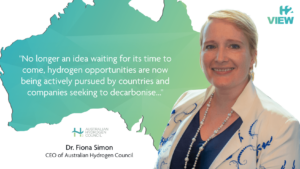 With China, Japan and South Korea recently announcing net zero targets, we can see that the transition from conventional fossil fuels is global and inevitable.
Within this energy transition, hydrogen is gaining increasing global attention for the important role it can play in the future energy mix. In combination with renewable electricity and batteries, clean hydrogen has potential to transform many countries' energy production and consumption. No longer an idea waiting for its time to come, hydrogen opportunities are now being actively pursued by countries and companies seeking to decarbonise.
Australia is well positioned to take advantage of this opportunity. This has been recognised by Australian policymakers, with a range of national and state strategic and funding announcements supporting the development of a domestic hydrogen industry.
Continue reading here.