In an Australian first, renewable hydrogen will be delivered to 700 homes in Mitchell Park, when Australian Gas Networks (AGN) switches on its electrolyser at Hydrogen Park South Australia (HyP SA) today (May 19).
The start-up of the 1.25MW electrolyser, believed to be the largest in Australia, will see 700 customers receive a blend of 5% renewable hydrogen and natural gas delivered through the existing gas network.
Operated by AGN, part of the Australian Gas Infrastructure Group, the A$15.5m ($12m) renewable hydrogen production facility represents a leading moment for the decarbonisation of Australia's gas supply.
Read more: Hydrogen Park South Australia takes shape
Premier of South Australia the Steven Marshall and the Dan van Holst Pellekaan Minister for Energy and Mining officially opened the facility today.
At the opening, Minister van Holst Pellekaan, said, "Hydrogen is a fuel with tremendous potential and the Marshall Government is getting in on the ground floor to ensure we can service local, national and international demand for zero carbon hydrogen.
"I congratulate AGIG for their outstanding success delivering Hydrogen Park South Australia which was supported by a $4.9m grant from the Renewable Technology Fund.
"South Australia is well placed to be among the global leaders in the production, consumption and export of renewable hydrogen which can assist in the cutting of emissions from gas, transport and heavy industries as well as open up a major new export opportunity.''
Minister van Holst Pellekaan also said the State Government was committed to supporting the rapidly growing industry through investment and innovation outlined in its Hydrogen Action Plan.
"Green hydrogen is a fuel of the future and will play an important role in helping achieve our goals of 100 per cent net renewable energy and reducing greenhouse gas emissions by more than 50% in South Australia by 2030,'' he said.
"The outcomes of this project are part of the State Government's ambition to blend up to 10% renewable hydrogen in South Australia helping to drive domestic demand and consumption.
"Importantly, there is no additional cost to customers who will receive the blended 5% renewable gas as part of this project and the change will not impact any arrangements they have with their existing natural gas retailer.
"Countries around the world are looking for new technologies to help decarbonise their industries and the Marshall Liberal Government intends to create local jobs by become a world-class producer, supplier and exporter of 'green' hydrogen."
In addition to the housing network, the HyP SA facility is also supplying renewable hydrogen gas to South Australian industry through an agreement with BOC that will allow renewable hydrogen to be transported by road to industrial customers in Whyalla and throughout Australia.
Read more: Hydrogen Park South Australia nears completion, signs supply deal with BOC for industry
Austrade: Australia is well placed to be a major hydrogen producer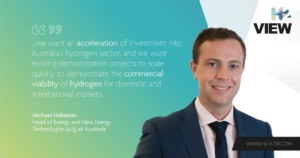 To support a future where all our energy comes from clean sources, the world needs clean, flexible, storable and safe fuels. Hydrogen has all of these characteristics. When used as a fuel, it produces no carbon emissions, only water. It can be safely used in a broad range of applications.
Australia is well placed to make hydrogen its next big export. It has all the natural resources needed to produce it, a track record in building large-scale energy industries and a reputation as a proven partner in Asia's biggest energy importers.
An Australian hydrogen industry could generate thousands of jobs, many of them in regional areas, and it could add billions of dollars to GDP over coming decades. Managed well, it could help Australia to reliably integrate extensive renewable generation into the electricity grid.
Continue reading here.