Australia continues to position itself as a leading nation in hydrogen technologies with the Government revealing an expanded A$250m ($185m) Future Fuels Fund investment which includes hydrogen refuelling infrastructure.
Revealed today (Nov 9), the funding comes as part of the national Future Fuels and Vehicles Strategy which aims to decarbonise the transportation sector of Australia by investing in a variety of low-carbon solutions – hydrogen refuelling infrastructure will be a priority of the funding.
The Australian Government has said that this investment, which includes A$178m ($132m) in new funding, will aim to deliver on the recently released Long-Term Emissions Reduction Plan on the path to net zero emissions by 2050.
Read more: Government of West Australia invests A$10m to accelerate the adoption of hydrogen vehicles
Read more: Game changing hydrogen strategy to position NSW as a hydrogen superpower with investment potential of A$80bn
In addition to providing a public hydrogen refuelling infrastructure, the funding will also support public electric charging, heavy and long-distance vehicle technologies, commercial fleets in transiting to zero-emissions and household smart charging.
Speaking on the new investment, Angus Taylor, Minister for Industry, Energy and Emissions Reduction, said, "The Future Fuels and Vehicles Strategy sets out the Government's technology-led approach to reducing transport emissions while ensuring Australians can drive their preferred type of vehicle – be that petrol, diesel, hydrogen or electric powered.
"Our technology-led approach is already helping to enhance consumer and industry confidence.  In the last eight months there has been a 20% increase in the number of low emissions vehicle models available in Australia.
"We are continuing to invest in the right infrastructure, while ensuring both those in the cities and regions can access this A$250m ($185m) fund."
The Australian Hydrogen Council also believes this funding will be crucial to the roll out of hydrogen refuelling to accelerate the adoption of fuel cell vehicles.
Dr. Fiona Simon, CEO of the Australian Hydrogen Council, said, "Today's announcement is fundamental to a greener future because decarbonisation of the transport sector is paramount to reaching net zero.
"We know that fuel cell electric vehicles (FCEVs) will work alongside battery electric vehicles (BEVs) to power the new generation of road transport.
"Clean hydrogen is already well placed to compete with incumbent fuels such as diesel. As the National Hydrogen Strategy notes, hydrogen fuel carries significantly more energy than the equivalent weight of batteries.
"This is particularly important for buses and trucks that travel long distances, or where  battery weight compromises effective payload. Hydrogen is also suitable for commercial use where effective range and recharging/refuelling times affect the bottom line.
"We now need to coordinate and plan to ensure that our roads, ports, electricity and gas infrastructure can be optimised to support clean road transport and introduce appropriate fuel standards to incentivise the transition.
"We look forward to working with Government to ensure that Australian consumers have choice when it comes to accessing the new transport technologies."
Australian Government action holds the key to unlocking hydrogen's value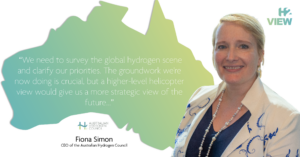 Recently, the Australian Hydrogen Council (AHC) waded deep into the renewable energy policy debate with its first White Paper. Unlocking Australia's Hydrogen Opportunity is a landmark document that charts the path to our country achieving net zero emissions, with the assistance of the emerging hydrogen industry. In this paper we set out what is next for Australia to set itself up for success in hydrogen.
Industry has the capacity, the intentions, and the raw materials in abundance. It's now up to the Federal Government to provide the plans and a down payment on the future benefits. Starting with planning, we argue – as we have for some time – that the planning piece is vital. We argue that we need a national body to provide net zero planning information to assist governments, the private sector and the public alike to make informed decisions about Australia's hydrogen industry.
Want to continue reading? Click here.