When the Covid-19 pandemic reached Europe and began to shut down entire countries in mid-March, it was less than three weeks before H2 View was due to stage its very first event, the Hydrogen Summit 2020 in Munich, Germany.
A gritty agenda combined with an all-star cast of keynotes and guest speakers underlined not just the importance and momentum of hydrogen in the clean energies transition, but also the esteem of the H2 View brand launched less than one year prior.
During those days in early March, I began to briefly think ahead about my introductory words that would open the summit – how I would welcome speakers and delegates alike, and the sentiments that I would hope to convey that day. They resonate now, as we proudly celebrate the first anniversary today.
I had planned to cite the phrase so often used and widely attributed to Indian lawyer, anti-colonial nationalist and political ethicist, Mahatma Gandhi – be the change that you wish to see.
There are other very powerful messages attributed to Gandhi, of course. "In a gentle way, you can shake the world," and "The future depends on what we do in the present," are just two examples of statements that are very relevant to the hydrogen movement in 2020. But being the change that we wish to see is a particular mantra that we had in mind when launching H2 View a year ago, and here's why…
My colleagues and I were not in a position to shape government policy. We were not in a position to drive and build infrastructure of any kind, let alone hydrogen infrastructure. We could not even reasonably afford to buy a hydrogen vehicle today or have the availability of one, let alone that crucial infrastructure required to refuel it in our beautiful county of Cornwall, here in the southwest of England.
So how could we make a difference with a cause and a movement that we could see was both growing, but also would benefit from a united voice?
What we could do, was put our years of expertise in hydrogen to great effect. To put our expertise in content, publishing, and intelligence to good use. To combine the two to great effect and provide a champion, a voice, for this new and fundamental hydrogen sector.
There was of course a compelling business case, but first and foremost was the desire to drive change – to play our part in reporting and supporting the industry; in championing and lobbying; in sharing knowledge and information; and in connecting the value chain.
That was and remains our way of being the change we wish to see. It's our way of helping you to drive that change, together. And on 15thJuly 2019, we launched H2 View.
A role to play
It's a proud day for us all at H2 View – and it couldn't come at a more progressive time for hydrogen and the clean energies transition.
The amazing journey or transformation of hydrogen, from an invaluable gas enabling and cleaning up the oil and gas and refining business to now rightly taking its place on the mantle of the clean energies transition, has been one of the stories of my 12+ years reporting on the industrial gas, chemicals and energy markets.
It has been one of the most interesting and satisfying stories to watch and chronicle, and I'm immensely proud that we took the steps to both reflect and support that with the launch of our H2 View platform which champions this cause.
We have conducted so many amazing interviews, written great features, broken big exclusives, and presented heavy-hitting studies and insights from key stakeholders in the industry – and we are still only in our first year and, like the hydrogen movement itself, we're only just getting started.
Today we stand on the precipice of real change. Just look at some of the incredible developments we've seen in the last year, in the last few days and weeks in fact.
We've seen international political summits at the highest-level debating the role of hydrogen; we've seen the Hydrogen Council grow to more than 80 heavyweight members worldwide; we see genuine breakthroughs occurring week after week in hydrogen technologies, partnerships and infrastructure roll-out; we see mega-scale green hydrogen projects looming large on the horizon and smaller-scale projects proliferating that will provide the critical bridge to those truly green ambitions; and we see almost every region of the world making its move with hydrogen and clean energies.
"Today we stand on the precipice of real change. Just look at some of the incredible developments we've seen in the last year, in the last few days and weeks in fact"
One of the biggest breakthroughs, in Europe at least, has happened in the last seven days, with the keenly anticipated launch of the EU's hydrogen strategy. The European Commission unveiled the strategy and officially launched the European Clean Hydrogen Alliance to deliver on it, one week ago today in a milestone moment for both the region and the hydrogen industry itself.
Hydrogen is essential to supporting the EU's commitment to reach carbon neutrality by 2050 and for the global effort to implement the Paris Agreement while working towards zero pollution, the strategy says.It addresses how to transform this potential into reality, through investments, regulation, market creation and research and innovation.
We are seeing the change we all wish to see, taking shape right before our eyes.
The next step
In looking back of course, it's just as important to look forward – and we're more committed than ever to being that vehicle for the industry and one of the many stakeholders ourselves.
What probably makes me proudest of all today is the role we play and will have to play in the future – championing and challenging the hydrogen business, and the wider energy sector as a whole. For us all, that's the most exciting thing: playing our part in this mission for the greater good, being at the relative start of this curve and helping to drive it onwards and upwards. That means not just championing the cause, but challenging and helping to drive it further too.
"We are seeing the change we all wish to see, taking shape right before our eyes"
There are many significant targets for hydrogen to meet in the next decade alone, the importance of which cannot be overlooked, and how we work to implement those will define this energy transition. So too will the role of hydrogen and clean energies in any post-coronavirus economic restructuring. How we respond to resulting economic turmoil of this pandemic will define our future energy system. Again, we stand on the precipice of change.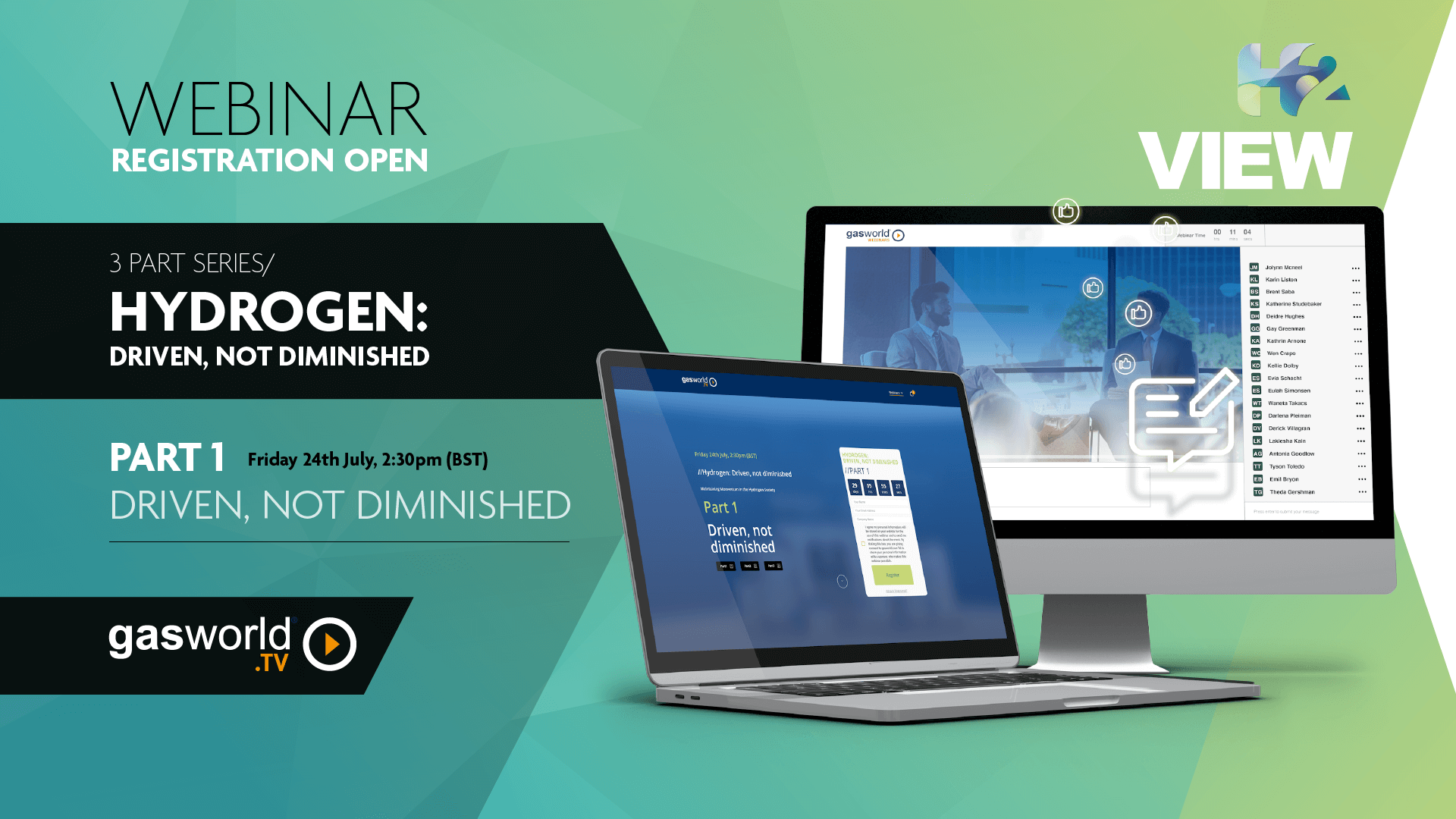 And we embark upon the next step in upholding our mission, as well as communicating these key messages, next week when we launch a brand new series of hydrogen webinars devoted to driving discussion and debate.
Titled Hydrogen: Driven, Not Diminished, this three-part series of webinars will explore the ever-increasing significance of hydrogen and the opportunities (as well as challenges) that lay ahead for the sector, beginning with what is set to be an engaging opening webinar dissecting one of the biggest topics in the hydrogen and wider energy sector today: why a clean and green economic recovery is crucial for the world, post-coronavirus.
I can't wait to get stuck into the discourse of those webinars, just as I can't wait to see what the next year and beyond holds in store at H2 View. I hope we'll all continue to drive change on this journey together.