A hydrogen-powered double-decker bus is currently being trialled in Dublin, Ireland.
Marking the next step for hydrogen-powered public transport in the capital city, the bus will operate on Dublin Bus route 9 to stimulate real-driving conditions while examining efficiencies.
Such effort is part of the final phase of the Department of Transport's Low Emission Bus Trial, in which Dublin is testing a range of alternative fuel technologies to cut emissions.
Minister for Transport Eamon Ryan is behind the trials and says the hydrogen trials are another step in the right direction. "We are now in the final stages of testing alternative fuel technologies which will inform how our bus fleet will operate and how we can support a sustainable transport system across Ireland," Minister Ryan said.
"In line with climate action targets, we are investing in alternatively fuelled vehicle technology across bus and rail with the objective of transitioning all public transport to low-zero emission fuels and technologies.
"I am delighted to welcome this trial which will provide practical insight into the operation and impact of hydrogen technology and allow us to assess it alongside other previously tested bus technologies.
"By examining all available technologies, we can best determine how to power our future urban bus fleets while improving sustainability and reduce greenhouse gas emissions."
The Department of Transport, however, has not worked alone in such endeavour. During the hydrogen trials, the Department has worked with Bus Éireann, Go-Ahead Ireland, BOC Gas, and consultants Byrne Ó Cleirigh to carry out the testing.
It is hoped that results from the trials will form part of the decision-making process to help further transition the public transport fleet to lower emitting fuels and technologies.
European Hydrogen Week: An interview with Ryse/Wrightbus' Jo Bamford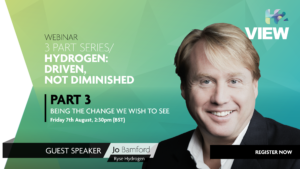 Prior to 2019, if you'd heard the name Jo Bamford you probably would have associated him with family-run vehicle engineering firm JCB, and as the grandson of its founder Joseph Bamford.
Bamford left the digger firm in January 2019 to set up Ryse, a UK-based hydrogen production and refuelling company aspiring to decarbonise transport by providing clean fuel for buses. Nine months later, he took over the reins at Wrightbus, and rescued the Ballymena-based bus manufacturer from administration.
But it was April 2020 that really saw him burst onto the hydrogen scene with his bold and ambitious vision to bring 3,000 hydrogen buses to the UK. And he's never really left the hydrogen headlines since.
Want to continue reading? Click here.