Queensland, Australia, will receive a huge boost to its hydrogen prospects with the local government revealing today (Dec 21) that Japanese oil company ENEOS is set to increase its hydrogen production in the region.
ENEOS will continue to expand its hydrogen production presence in Queensland to become a key player in the hydrogen ecosystem and to achieve this, the company will aim to produce up to 20kg of green hydrogen daily at its Bulwer Island site.
Read more: Japan and Australia join forces on hydrogen
Read more: Eneos, Neoen to explore green hydrogen supply chain between Japan and South Australia
This is a major step forward for the domestic hydrogen economy within Queensland and could also support the region's aim in becoming a powerhouse for hydrogen production.
ENEOS will produce the green hydrogen using its own patented electrolysis technology, powered from renewable energy generated by a dedicated onsite 250kW solar system.
A unique factor of this proposed green hydrogen production is that it will be produced in the form of methylcyclohexane (MCH) providing a basis to store and transport the hydrogen in liquid form before being refined back to hydrogen in Japan.
Cameron Dick, Treasurer and Minister for Trade and Investment for the Queensland Government, said, "Companies like ENEOS want to invest in Queensland because we've got the settings for industry right. These sorts of commitments also raise our profile as an attractive destination for substantial foreign investment.
"ENEOS' increase in local green hydrogen production will create 30 new specialist jobs for Queensland in a key growth industry.
"We look forward to continue working with ENEOS and other global companies looking to base their hydrogen operations in Queensland."
Mick de Brenni, Minister for Energy, Renewables and Hydrogen for the Queensland Government, said, "With proactive policy from government, abundant renewable resources, and well-established infrastructure, our state is the ideal place to invest in hydrogen.
"Hydrogen presents a wide range of opportunities across sectors, and by encouraging the development of new technologies and processes locally we'll maximise the potential of hydrogen."
How to fast track Australia's hydrogen industry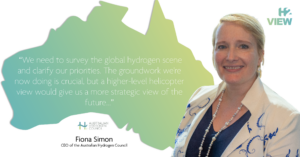 With China, Japan and South Korea recently announcing net zero targets, we can see that the transition from conventional fossil fuels is global and inevitable.
Within this energy transition, hydrogen is gaining increasing global attention for the important role it can play in the future energy mix. In combination with renewable electricity and batteries, clean hydrogen has potential to transform many countries' energy production and consumption. No longer an idea waiting for its time to come, hydrogen opportunities are now being actively pursued by countries and companies seeking to decarbonise.
Want to continue reading? Click here.