Prince William, The Duke of Cambridge, was provided the opportunity to take a look at Extreme E's hydrogen fuel cell and battery-electric vehicles to learn more about the environmental impact that the series is having.
The event had been hosted at the Knockhill Racing Circuit, Scotland, on Saturday (May 22) and saw Alejandro Agag, CEO and Founder of Extreme E accompanied by Adam Bond, CEO of AFC Energy, reveal how to get the best out of a battery-powered racing car.
Read more: AFC Energy partners with Extreme E to power first electric rally series with hydrogen
Read more: Everything we know about AFC Energy's involvement in Extreme E
The brainchild of the people behind the Formula E racing series, Extreme E sees teams racing bespoke off-road electric SUVs in some of the remote corners of the planet, powered by AFC Energy's hydrogen-fuelled H-Power Charger.
Race organisers and teams aim to highlight the most important climate issues facing the planet and through the use of 100% electric EVs and sustainable EV charging, hope to inspire people and organisations to tackle the challenges posed by the climate emergency.
The AFC Energy fuel cell innovation is just one of a selection of technologies utilised by the sport for purpose series with the aim to run the most sustainable motorsport championship possible.
This also fits with the spirit of the Earthshot Prize, a global environmental prize founded by Prince William in October 2020, which aims to discover and scale the best solutions to help repair the planet over the next 10 years.
As mentioned by Adam Bond, "Extreme E is a world class, off-road rally racing championship, taking fully electric motorsport to a worldwide audience in some of the most extreme environments on the planet.
"Extreme E Season 1 has races across five formidable environments in 2021, including the Arctic, Amazon Rainforest and Sahara Desert.
"It's attracted some world-class entries, including Formula 1 World Champion Lewis Hamilton (X44), former Champions Nico Rosberg (Rosberg Xtreme Racing) and Jenson Button (JBXE), alongside high-profile well-established teams including Andretti United and Chip Ganassi Racing."
Extreme E: A new era of motorsport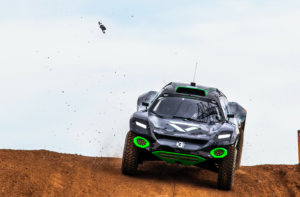 It's going to be a spectacular, captivating, narrative-driven adventure telling the story of the effects of climate change and human activity on stunning, remote locations around the world. And in a months' time, off-road electric series Extreme E will head to Saudi Arabia for the first of that five-race global voyage that will span four continents.
The rally championship will use a hydrogen fuel cell generator, designed and engineered by AFC Energy, to remotely charge its race fleet using zero-emission energy, marking a revolutionary first in international motorsport.
Extreme E's founder and CEO Alejandro Agag is no stranger to electrifying race cars having also established Formula E, an all-electric street racing series. What started as nothing more than a shared dream between Agag and FIA President Jean Todt, noted on the back of a napkin back in 2011, Formula E has developed into the fastest growing motorsport series on the plant.
Want to continue reading? Click here.