A hydrogen power generator has successfully supported Extreme E's 2021 season, having charged vehicles in Saudi Arabia, Senegal and Greenland without emitting harmful emissions.
The electric rally championship joined forces with AFC Energy last year to deploy its hydrogen fuel cell generator to remotely charge the race fleet. Deemed a success, the generator will continue to support vehicles.
Already in the rally, AFC Energy's technology has operated in a range of challenging conditions, including in the desert, the arctic and in high humidity environments – and it has travelled thousands of miles.
On the success, Adam Bond, CEO of AFC Energy, said, "This first of its kind deployment across the world of our hydrogen power generator in such high pressure, high-profile extreme environments is an enormous tribute to all of our staff and partner organisations involved and shows what can be done today in moving the world to zero-emission technologies.
"Government and industries alike are realise that without immediate investment in genuinely sustainable power technologies, there is little to no chance of us mitigating the change we are today witnessing in rising global temperatures and extreme weather events.
"AFC Energy's technology and capability is ready to play a key role in addressing climate change, the most pressure issue facing the world today."
With plans already been teased for next year's race, Extreme E aims to drive awareness of climate change issues whilst promoting sustainability and the adoption of electric vehicles, something which AFC Energy helps it do.
Commenting on the collaboration Alejandro Agag, founder and CEO of Extreme E, said, "Extreme E's collaboration with AFC Energy means that we are the first event organiser to have ever used hydrogen fuel cell power generators for charging on site at race events.
"The technology has already provide to be a game changer right from our first race event in Saudi Arabia in April. As a first location, this was incredibly challenging for everyone involved – not only were we positioned completely remotely within the desert of AlUla, no roads, no infrastructure at all – but it was very hot and there was so much fust which would affect any sensitive machinery.
"Since then, Extreme E has raced in Senegal and Greenland – you couldn't get more diverse and remote than those two places – from and, heat and humidity on a beach in Lac Rose, to racing next to an Arctic ice cap in Kangerlussuaq.
"AFC Energy has managed these situations and kept our cars fully powered. We are setting the standard for clean fuel provision in any situation – there's no excuses left for industry to not be 'clean' now, we know it can be done, we've proved it."
Extreme E: A new era of motorsport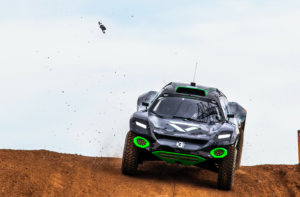 It's going to be a spectacular, captivating, narrative-driven adventure telling the story of the effects of climate change and human activity on stunning, remote locations around the world. And in a months' time, off-road electric series Extreme E will head to Saudi Arabia for the first of that five-race global voyage that will span four continents.
The rally championship will use a hydrogen fuel cell generator, designed and engineered by AFC Energy, to remotely charge its race fleet using zero-emission energy, marking a revolutionary first in international motorsport.
Extreme E's founder and CEO Alejandro Agag is no stranger to electrifying race cars having also established Formula E, an all-electric street racing series. What started as nothing more than a shared dream between Agag and FIA President Jean Todt, noted on the back of a napkin back in 2011, Formula E has developed into the fastest growing motorsport series on the plant.
Want to continue reading? Click here.