First look visuals of GCK Motorsport's 2024 e-Blast H2 cross-country racer have been unveiled – and the team is now one step closer to being the first to participate in the 2023/24 Daker Rally with a hydrogen vehicle.
Part of Green Corp Konnection, GCK Motorsports has been working with the wider team to build design and integrate the fuel cell system into the cross-country prototype which highlights a greener step forward for motorsport.
The new visuals of the model boast an all-new custom chassis design, combing curves and aggressive straight lines to sculpt a versatile and resilient shell to house both a GCK fuel cell and hydrogen tanks.
GCK Motorsport's effort all falls under Green Corp Konnection's global strategy with uses cross country as a lab for innovation to test its fuel cell system and powertrain in the toughest conditions before they integrate it into other vehicles.
Commenting on the development, Guerlain Chicherit, President of Green Corp Konnection, said, "The new visuals mark a key milestone in the journey to 2024 and the progress to a greener future in cross-country motorsport and beyond.
"The innovations behind the e-Blast H2 are a driving force to help scale up the efforts of green technology across motorsport and industrial sectors alike. This is another piece in a very large puzzle, and I'm excited to see how the finished vehicle will look.
"I really look forward to being able to test this future vehicle which perfectly reflects our project philosophy combining green technology, performance and design."
The team will present a first evolution of the vehicle at the 2022 Daker Rally, with the final look visual set to be ready for 2024.
Extreme E: A new era of motorsport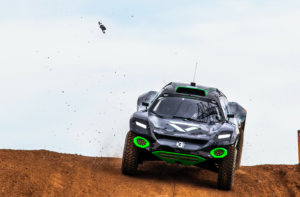 It's going to be a spectacular, captivating, narrative-driven adventure telling the story of the effects of climate change and human activity on stunning, remote locations around the world. And in a months' time, off-road electric series Extreme E will head to Saudi Arabia for the first of that five-race global voyage that will span four continents.
The rally championship will use a hydrogen fuel cell generator, designed and engineered by AFC Energy, to remotely charge its race fleet using zero-emission energy, marking a revolutionary first in international motorsport.
Want to continue reading? Click here.