Framo and Fahrzeug-Entwicklung Sachsen (FES) will look to jointly plan the production of hydrogen-powered trucks in the future following a collaboration announced on Tuesday (20th April).
The two companies have identified that whilst electric powered trucks are suitable for carbon free trucking at short to medium distances, hydrogen trucks are perfect for long range hauling operations.
With plans to expand electric truck production, Framo and FES will also be looking at how to best implement the production of hydrogen-fuelled trucks to support the critical gap in the transport and business sectors.
Read more: Volvo Trucks reaffirms commitment to hydrogen fuel cell trucks
Serhat Yilmaz, Chief Marketing and Business Development Officer at Framo, said, "The advantages of hydrogen propulsion are very clear, with our fuel cell system, we can reduce the weight of the vehicle by at least half a tonne.
"Compared to a pure battery drive, our hydrogen truck has a longer range and, of course, more payload. This makes the vehicle not only more economical, but also significantly more ecological for long journeys."
Hydrogen trucks, trends and technologies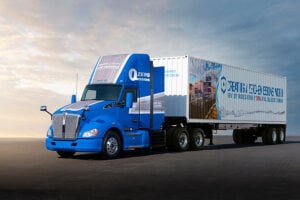 For energy intensive applications like long-haul and heavy-duty trucks, hydrogen is one of the most interesting energy carriers, presenting operators with a quiet, smooth and continuously strong performance, all without emitting any emissions. A major industry for North America, whether hauling foods, farming goods, construction materials or clothes, trucks are almost everywhere in the continent, with very few commuters being able to travel down the highway without seeing one. Sadly, many of these vehicles emit high amounts of carbon emissions and cause great harm to the environment. However, this is something that North America, with the help of its thriving mobility sector, hopes to change with the introduction of zero emission technologies such as hydrogen.
Want to continue reading? Click here.