Although the majority of attention within hydrogen refuelling infrastructure is focusing on the roll-out of the stations, less is discussed about the technologies and innovative companies spearheading this roll-out.
In this article we focus on Chesterfield Special Cylinders, one of the companies working hard to create safe, sustainable, long-term storage solutions for hydrogen and HRS, positioning itself as integral in the technological driving force behind hydrogen refuelling infrastructure. 
The UK-based company is a provider of highly specialised, safety-critical gas containment systems and services, including the design, manufacture through-life support of Type 1 steel pressure vessels for the hydrogen energy sector. To learn more, H2 View spoke exclusively with Sonia Naoui, Business Development Manager for Hydrogen at Chesterfield Special Cylinders, to find out how the company is readying itself for the fast-developing hydrogen market.
H2 View: Thanks for giving H2 View your time. Could you provide us with a brief overview of Chesterfield Special Cylinders and how it fits into the hydrogen market?
Sonia Naoui (SN): Chesterfield Special Cylinders (CSC) is part of the Pressure Technologies plc group and is a leading designer and manufacturer of high-integrity, safety-critical components and systems serving oil and gas, defence, industrial and hydrogen energy markets. With more than 125 years of industry knowledge and expertise, the company is very well qualified to play a key role in meeting the demanding safety and reliability standards required for hydrogen storage, transportation and refuelling applications.
CSC's medium and high-pressure cylinders are a critical component for several end applications, from pressure systems in naval submarines and surface warships, to oxygen cylinders in fighter jets. Also from the bulk storage of industrial gases to air pressure vessels in floating oil platform motion compensation systems and more recently, for hydrogen storage.
CSC is supporting the adoption and future growth of hydrogen energy with innovative and cost-effective storage solutions using our Type 1 steel cylinders. We design, manufacture and maintain hydrogen storage systems across a wide range of pressures for applications such as hydrogen refuelling stations (HRS), green hydrogen and industrial decarbonisation. We have a long history of working with gas majors to design, manufacture and service cylinder fleets while in service. All of our cylinders are manufactured to meet stringent international quality and safety standards and our designs allow for modular expansion to meet future energy demand.
CSC has always been at the forefront of the evolution of industrial hydrogen storage, having co-written and contributed to national and international safety codes and standards for the design and operation of hydrogen cylinders and storage systems, making CSC a trusted supplier and partner for OEMs and operators of hydrogen storage systems worldwide.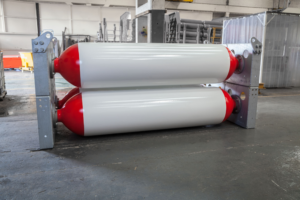 © Chesterfield Special Cylinders
What are some of the unique hydrogen-related technologies/services that you provide? 
(SN): We offer a cradle-to-grave solution, which is something no one else provides. We design and manufacture highly efficient storage vessels and can also carry out periodic inspection of  those systems both in-situ and at our specialised facility in Sheffield. This enables us to work with the customer to ensure CAPEX, OPEX and, therefore, Total Cost of Ownership (TCO) is optimised, providing the best overall solution for the project.
How important are CSC's Type 1 (steel) cylinders for the hydrogen market?
(SN): As the hydrogen market grows, we are working hard to develop and adapt our products and solutions to meet this ever-evolving market. We put our customer needs at the heart of everything that we do. CSC has proudly been manufacturing and supplying Type 1 cylinders for well over a century. Our experience working with steel has given us unrivalled insight into the benefits of steel cylinders over alternative forms of pressure storage materials. Type 1 cylinders are made of tough alloy steel, which means that they have a long lifecycle and are 100% recyclable. Here's a fact for you – our Type 1 steel tubes are actually made of recycled metals and to the highest quality standards, ensuring maximum pressure cycles within the constraints of the appropriate standard. We know from field experience that hydrogen service steel cylinders can be tested, inspected and re-certified so that lifetimes even in excess of 40 even 50 years can be realised.
One of the benefits of using steel is the longer history and greater depth of field-based knowledge on different inspection techniques. At CSC, we use a variety of inspection methods and technologies which is one of the many reasons that our cylinders are renowned for their structural integrity and being robust, safe, and long-lasting. Steel cylinders are a worthy investment for pressurised gas storage, providing peace of mind and longer-term value.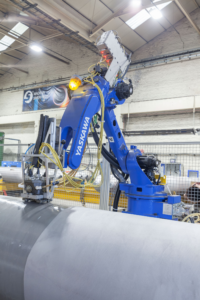 © Chesterfield Special Cylinders
Are there any particular projects/achievements that Chesterfield is proud of and willing to share?
(SN): The hydrogen sector, and in particular hydrogen refuelling stations for larger commercial vehicles, is undergoing significant expansion. CSC has already delivered several bespoke and standardised solutions for pressurised hydrogen storage to some well-known and progressive HRS players in the UK and Europe.
Key customers include Shell, Haskel, ITM Power and Arcola (now Ballard Motive Solutions). We can proudly say that we have provided Type 1 cylinders for many HRS for refuelling buses and HGVsr. In total we have delivered in excess of 20 projects across the UK and Europe and we are in the process of finalising more contracts, with a strong order pipeline.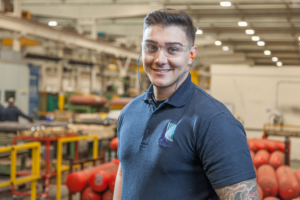 © Chesterfield Special Cylinders
CSC has a rich history in the industry and is celebrating 125 years, as you said earlier. That's a fantastic achievement! What are some of the key milestones?
(SN): We are proud to be a part of Sheffield's industrial heritage and reputation for steel manufacturing. Established in 1897, we continue to evolve our technical and engineering skills to continuously improve our products and services. To name a few key milestones:
CSC has manufactured 30+ million cylinders
We have supplied our cylinders to the UK Navy for over 60 years
We have been helping our customers to store hydrogen at pressure for over 80 years.
We really are immensely proud to look back at the key milestones and role that we have played across the defence, oil and gas, industrial and hydrogen sectors: 
 1897 – The Universal Weldless Steel Tube Company Limited was formed in London
1906 – Chesterfield Tube Company Limited (CTCO) acquired The Universal Weldless Steel Tube Company Limited
1921 – The first seamless stainless steel tubes were manufactured by CTCO
1929 – The company joined Tube Investments Ltd (TI)
1912 -1939 – We reached the milestone of 1,000,000 cylinders designed and manufactured 
1973 – The company's name changed to TI Chesterfield Limited
1982 – The company became a member of the United Engineering Steels Group and became known as Chesterfield Cylinders Limited
2005 – Management buy out of Chesterfield Tube Company Limited, renamed Chesterfield Special Cylinders and relocated to the current Sheffield site
2007 – Pressure Technologies plc was established and listed on AIM, the junior London Stock Exchange market
2011 – Integrity Management (IM) team created for in-situ inspection and recertification services.
Finally, with the hydrogen market ramping up and continuing to gain momentum, what's next for Chesterfield? Perhaps you could give us some concluding thoughts for our readers…
(SN): As the hydrogen refuelling infrastructure and customer demands increase, we plan to grow alongside customers in key European segments over the next 12 months.
We will support existing key customers globally and also focus on expanding our global customer base within the next 24 months, by reinforcing the advantages of using an end-end service that translates to efficient design solutions providing storage at low Total Cost of Ownership and risk.