A new research mission has today (May 26) been launched by the Commonwealth Scientific and Industrial Research Organisation (CSIRO) to drive down the cost of hydrogen production to under $2 per kilogram and position Australia to lead the world in exporting hydrogen by 2030.
Under the Mission, and over the next five years, more than 100 projects worth $68M have been planned by partners including: Department of Industry, Science, Energy and Resources (DISER), Australian Renewable Energy Agency (ARENA) , Fortescue Metals Group,  Swinburne University, the Victorian Government, the Future Fuels CRC, National Energy Resources Australia (NERA), and the Australian Hydrogen Council, along with collaborators Toyota and Hyundai.
Dr Patrick Hartley, CSIRO Hydrogen Industry Mission Lead, said CSIRO was uniquely placed to drive the collaboration.
"The goal of this Mission is to support the vision of a clean and competitive hydrogen industry for Australia by delivering research, development and demonstration partnerships which help make Australia's hydrogen markets a reality," he said.
"CSIRO's unique position at the nexus of research, government, and industry gives us the ability to bring together stakeholders, and our track record of partnering and leveraging research funds means that we are able to grow this new phase of the industry without the need for everyone to do it alone."
Dr Larry Marshall, Chief Executive of CSIRO, added, "Australia can become a renewable energy leader through the production, use and export of hydrogen, but it will only become a reality if we breakthrough the $2/kg barrier. That needs Australia's world class science working with CSIRO's commercialisation expertise turning breakthrough science into real-world solutions.
"Taking a Team Australia approach is essential to creating the 8,000 jobs and $11bn a year in GDP that hydrogen can contribute to Australia's economy as we build back better from the impacts of Covid-19."
The four programmes that will benefit from the Hydrogen Industry Mission are:
Hydrogen Knowledge Centre to capture and promote hydrogen projects and industry developments across Australia.
Feasibility and strategy studies to deliver trusted advice to government, industry and the community.
Demonstration projects that validate hydrogen value chains and de-risk enabling technologies.
Enabling science and technology through investment in breakthrough science, including a $20m partnership with Fortescue which focuses on the development and commercialisation of new hydrogen technologies.
The hydrogen market and opportunity in Oceania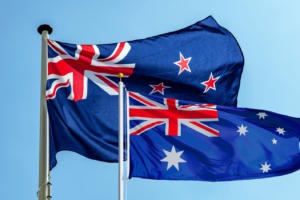 Hydrogen is poised to fulfil its potential as a clean alternative to hydrocarbons in the global pursuit of decarbonisation to address climate change. Australia and New Zealand are both investigating the most appropriate applications and transition pathway for hydrogen within their energy systems and economies, making best use of their existing natural, social, cultural, human and financial resources. 
In September 2019, New Zealand revealed its Green Paper – A Vision for Hydrogen in New Zealand that lays out the role hydrogen can play in the country's economy. While hydrogen produced from fossil fuels and industrial processes (brown, blue and grey) may play a role in the transition of New Zealand's regions and existing industries, the government considers there is greater opportunity for New Zealand in exploring the use of its renewable energy to produce green hydrogen as an alternative fuel for domestic use and for export. 
Two months later (November 2019), Australia released its National Hydrogen Strategy setting out a vision for a clean, innovative, safe and competitive hydrogen industry that benefits all Australians. Australia has the resources, and the experience, to take advantage of increasing global momentum for clean hydrogen and make it the next energy export. There is potential for thousands of new jobs, many in regional areas – and billions of dollars in economic growth between now and 2050. 
Continue reading here.