Nope this isn't a scene from American comedy cartoon Futurama, hydrogen-powered drones are now delivering Domino's Pizza in South Korea.
The new service was launched at the weekend in Sejong City and runs every Saturday and Sunday from 1pm to 6pm until the end of October.
According to a statement from the Ministry of Land, Infrastructure and Transport (MOLIT), the fuel cell drone was developed in partnership with LG Electronics and is equipped with a function to avoid the traffic and move through machine learning that identifies geographic information and delivery routes.
Korean media reports that two fuel cell drones will deliver pizza to customers, with the capacity to deliver two to three orders every hour.
Moving at scale and speed: South Korea betting big on hydrogen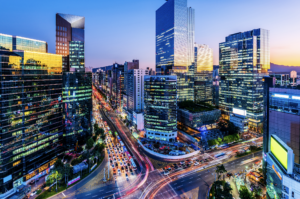 South Korea is betting big on hydrogen. The country is moving at scale and speed to develop a hydrogen economy, with incentives and initiatives to encourage the production, import and consumption of hydrogen.
Although hydrogen has a wide variety of applications, Korea is giving the highest priority to the mobility and power generation spaces. The country's largest automotive company, Hyundai Motors, launched the world's first commercial fuel cell electric vehicle (FCEV) in 2013 and the first fuel cell truck in 2020, and the country accounts for fully one-third of the world's installed capacity of utility-scale stationary fuel cells.
Read the full article by Dilshod Akbarov here.