Hyzon Motors' first-ever hydrogen-powered 55-tonne milk truck is now operating on specific routes in the North of the Netherlands.
The hydrogen vehicle manufacturer on Tuesday (July 13) delivered the vehicle to Transport Groep Noord, a Netherland-based carrier providing transport for multinational dairy company Royal FrieslandCampina N.V.
Built on a Class-8 DAF truck chassis, the HyMax 450 Puller is expected to have up to 520 kilometre range with motor power up to 550 kilowatt capacity – making it perfect for long-haul journeys.
Transport Groep Noord operates 25 trucks for FrieslandCampina, leading decarbonisation in its industry, with the addition laying the foundation for a whole zero-emissions fleet.
Commenting on the new addition, Hans Wieleman, FrieslandCampina's Milk Logistics Manager, said, "Over five years ago, FrieslandCampina started using liquid natural gas as a cleaner fuel and we successfully stimulated filling stations all over the Netherlands to supply this type of fuel.
"Now we try to do the same with hydrogen, in close cooperation with Hyzon and Transport Groep Noord. Transport is and will remain important to further increasing sustainability at FrieslandCampina."
In its sustainability program 'Nourishing a better planet', FrieslandCampina sets itself a few ambitious goals, including CO₂-neutral production in the year 2050. As an intermediate step the dairy company wants to have reduced the greenhouse gas emissions by more than one third in the year 2030.
Commenting on Hyzon's role in the company's plan, Craig Knight, CEO of Hyzon Motors, added, "FrieslandCampina's commitment to decarbonising their operations can serve as a model for transitioning commercial transport to hydrogen-powered vehicles.
"Its existing successes demonstrate that reducing emissions is possible in the short-term. Deploying Hyzon's hydrogen fuel cell-powered trucks to a global company like FrieslandCampina provides another tangible example that companies can make a real impact in reducing fleet emissions right now."
The global hydrogen revolution for commercial vehicles is here, and Hyzon Motors is at the vanguard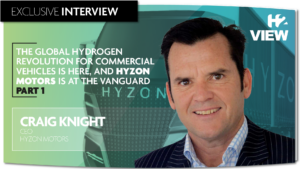 It was 2003 when Craig Knight, George Gu and Gary Robb set out on a mission to build the world's first profitable fuel cell company. Horizon Fuel Cell Technologies was established in Singapore that year, and has a founding story fuelled with curiosity, ambition and willingness to move forward in one of the most difficult technology spaces.
Technology-agnostic and commercially focused, Horizon's ambition was to achieve sustainable decarbonisation targets without relying on government subsidies, billions of dollars of private capital, and to create a profitable fuel cell company, in an industry that had not seen a profit in 30 years, and was still quite far from breaking through at the time.
Want to continue reading? Click here.