Surely one of our greatest gifts this festive season is the present we're seeing gradually unwrapped before our eyes: the gradual realisation of hydrogen's potential to decarbonise industry, transport and society alike.
If 2020 was a year of pause and reflection at the hands of the Covid pandemic, and crystallisation of the hydrogen vision, then 2021 has picked up that baton and firmly set the stall out behind the hydrogen society.
And it's moving from a gradual pace of development to a rapid march forward.
As soon as the year began, the hydrogen announcements came flying out of the blocks. New capacities, new technologies and new market entrants continued to be revealed on an almost daily basis. Add to that new government strategies and policies, the continual addition of funding and investment cycles, and frequent statements of affirmation from some of the biggest and most influential names in industry, and the building blocks of the (green) hydrogen society have firmly been laid this calendar year.
It really has been a year like no other for hydrogen, and I'll make no apology if we keep saying that year-on-year from here on in, because that can only be a good thing for us all.
Even in recent days and weeks, we've seen major mergers and acquisitions (M&A) activity underway in the hydrogen value chain, which underscore the groundswell of investment and interest in hydrogen. The time has truly come for this most incredible, flexible and bountiful of fuels.
Look at the acquisition of Applied Cryo Technologies (ACT) by Plug Power, as the latter expands its green hydrogen ecosystem and lowers the cost of infrastructure and logistics networks with the addition of a proven provider of technology, equipment and services for the transportation, storage and distribution of liquefied cryogenic gases.
We're now seeing the happy collision of newer and more established hydrogen players; this is what many of us had foreseen for many years, the consolidation of the sector new and old in the pursuit of the most compelling business case. It's happening, and Plug Power's acquisition of ACT in late November is just one example.
Also look at the acquisitions by Dover, a global manufacturer and solutions provider with annual revenue of over $7bn, in recent days. The company purchased Acme Cryogenics, Inc. for $295m in cash and entered into a definitive agreement to acquire Engineered Controls International, LLC (RegO) for $631m in cash.
Both businesses are traditionally entrenched in the cryogenics and industrial gas sectors, they are well-established providers of highly-engineered components and services for the production, storage, and distribution of cryogenic gases. The businesses supply valves, regulators, vacuum jacketed piping, fittings, safety devices, liquefied natural gas fuelling components, and other specialty flow control devices to customers from a variety of end-markets.
Their acquisitions mean that both will now become part of the OPW Global operating unit within Dover's Fuelling Solutions segment. They join LIQAL, a supplier of LNG and hydrogen refuelling equipment and solutions, which the Dover group acquired in October.
But it's more what it represents that's so interesting. These are further marriages in the hydrogen space of the proven expertise and the new incumbents; these are key technology links in the hydrogen value chain that need to be fulfilled; and these appear, on the face of it, to be strong prices or valuations for those acquired businesses – underlining the strength and depth of investment activity in hydrogen right now.
This is the fulfilment of many years of developments in-the-making. It's the pieces of the puzzle all coming together as hoped or, to use an analogy for this time of year, it's the various layers of wrapping being torn away from the ultimate prize inside.
It's also been fascinating to see the increased media coverage of hydrogen and the energy transition taking shape. This is only fuelling the public understanding of hydrogen, its applications, it's fundamental relevance and its safety – something we've been campaigning for through many years at H2 View. It's been fantastic to see, though we do of course know that H2 View remains your news and views platform of choice (and if you're new to us, be sure to take advantage of our festive subscription offer at the moment)!
The death knell for greenwashing
For all of this optimism, however, we have to bring an end to green washing and half-hearted government commitments if we're to truly realise the hydrogen society. That would be my wish or New Year's resolution for 2022.
Hydrogen, the closest thing to a silver bullet in the energies transition, and our sheer need to decarbonise right now, cannot be allowed to be a PR pawn for short-term political gain. We have to hold these promises and bold statements to account – and make good on those words, if not greatly amplify their stated intentions.
Take the UK as an example. Its long-awaited hydrogen strategy was released to much fanfare in August, but it also drew some stinging criticisms. The strategy is quick to admit that low-carbon hydrogen will be essential to achieve net zero by 2050, as well as meeting the country's world-leading Carbon Budget 6 (CB6) target by 2035, and yet felt thoroughly underwhelming in the actual detail of its objectives.
Read more: H2 View analysis – UK's hydrogen strategy raises more questions than gives answers
It left me wondering at the time, is this the greatest greenwash yet?
I've gone on record publicly this year as saying that we need pragmatism in our approach to this clean energies transition, in this path to net zero and true sustainability. We have a global economy so rooted in fossil fuels and their derivatives, that we need to inject a dose of reality in how we pursue our vision of the future. We can't simply uproot that economic tree overnight.
Take blue hydrogen as an example. I know there are critiques of the so-called 'twin-track' approach that encompasses both blue and green hydrogen. I understand those arguments and likewise, I understand the argument for blue hydrogen as something of an intermediary. This appeals to my own rationale around making hydrogen happen and making it stick. We have to be measured and practical here.
Whilst I maintain that stance, such pragmatism should also not be at the hindrance of a wholehearted approach to renewables. At the moment, in the UK at least but perhaps also in some other countries, the strategy feels too flimsy, too half-hearted. When you scratch beneath the surface, it seems the intent is undoubtedly there but the conviction is somewhat lacking.
My feeling both in August and again in November when COP26 came to Glasgow was: pragmatism is one thing, but plain procrastination and lethargy in the UK's commitment to hydrogen is quite another. We can't continue with such indecision. We can't wait for climate hacks to emerge and become apparent, and then throw all of our eggs into those baskets. We can't greenwash this any longer; we need to act – and decisively – now.
We need a clear and concise plan to take forward but more importantly, we need to actually take it forward. We need tangible action. We need serious investment from the Treasury; we need to take the handbrake off and let the infrastructure flow. One might say, we need to take that famous red briefcase and paint it green.
The very significance of hydrogen in our sustainability aspirations, our decarbonisation imperatives in fact, means it can't continue to be something that we're merely 'committed' to – it has to be something we're doing, and now. That's the same for governments the world over. Gesticulating on the world stage at various summits and climate conferences means nothing if you're not able to back those words up in your own back yard.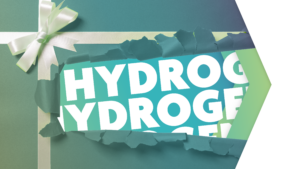 Keep on pushing forward in 2022
If the progress in hydrogen really is one of the greatest gifts of all this Christmas, then let's not let that gift go to waste.
We cannot allow this to be a lost investment cycle as some embattled elder statesman in hydrogen often remind us, has 'happened too many times before'.
This is fundamentally different now, this movement has real and tangible traction, and we have to ensure that this remains the case. We have to be able to stand up and say that with ever-increasing confidence and conviction. And we will only do that my keeping our pedal firmly to the floor, challenging policy, keeping the investment coming for all the right reasons, and bringing an end to any organisations, governments or individuals using hydrogen in their greenwashing PR war.
We have to make this happen and make it pay. We have to ensure those lost experiences of the past remain exactly that. If we can do that, then we'll see the transition to a green hydrogen society even quicker than we might have foreseen.
On that note, Season's Greetings to you all this festive season and our best wishes for a Happy & Healthy New Year ahead. We'll see you in 2022, when you can be assured that we'll be doing our best to hold all policies, stakeholders and progress to account once more!