Hyzon Motors has appointed a new Managing Director for Australia and New Zealand operations that will support the expansion of the group's hydrogen fuel cell-powered heavy vehicle.
Hyzon is seeing accelerating demand for zero-emission hydrogen transportation solutions throughout Australia and New Zealand.
John Edgley, who takes over as Managing Director on July 23, will oversee Hyzon's first delivery of hydrogen fuel cell-powered coaches to Fortescue Metals Group's Christmas Creek iron ore hub in Western Australia.
As well as this, Edgley will oversee the delivery of the first hydrogen-powered prime movers to Hiringa Energy in New Zealand.
Read more: Hyzon Motors secures order for five 154-tonne hydrogen trucks
Read more: Hyzon, TotalEnergies team up on hydrogen mobility solutions
Under Edgley's leadership, it is expected that Hyzon will continue introducing its imported commercial vehicles in addition to localising the production of key platforms including refuse collection vehicles and road trains for use in the mining sector.
The new Managing Director has deep experience in innovating within traditional industrial operations, creating sustainable growth and enterprise value by applying technology, systems and insight to the discipline of physical manufacturing.
Edgley said on his new appointment, "There is enormous opportunity in this region of the world for Hyzon to introduce its hydrogen fuel cell technology.
"The long distances, extreme weather conditions and challenging terrain, along with prolific mining activity, create the need for high performance, rugged technology.
"Unlike many other zero-emissions solutions, the high-density fuel cells developed by Hyzon are uniquely suited to tackle these environments.
"We stand at a pivotal point in history as hydrogen takes over from fossil fuels and Hyzon is positioned to power the next era of economic growth.
"It is a real privilege to be building new jobs, new manufacturing and technology facilities, and a fundamentally new industry in Australia and New Zealand, that will underpin a sustainable future for us all."
The global hydrogen revolution for commercial vehicles is here, and Hyzon Motors is at the vanguard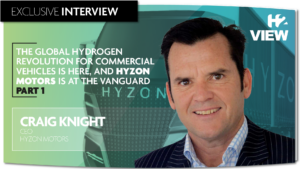 It was 2003 when Craig Knight, George Gu and Gary Robb set out on a mission to build the world's first profitable fuel cell company. Horizon Fuel Cell Technologies was established in Singapore that year, and has a founding story fuelled with curiosity, ambition and willingness to move forward in one of the most difficult technology spaces.
Technology-agnostic and commercially focused, Horizon's ambition was to achieve sustainable decarbonisation targets without relying on government subsidies, billions of dollars of private capital, and to create a profitable fuel cell company, in an industry that had not seen a profit in 30 years, and was still quite far from breaking through at the time.
Want to continue reading? Click here.