Hyzon Motors has revealed today (Jan 12) that it successfully delivered a total of 87 hydrogen fuel cell powered heavy-duty vehicles in 2021 as part of commercial sale agreements.
This impressive figure showcases not only the success of Hyzon Motors in the past year but also reveals the rising popularity of hydrogen fuel cell trucks with the company previously forecasting 85 deliveries in February 2021.
Hyzon will be hoping to continue this momentum moving into 2022 with the year expected to reap huge results for hydrogen in the mobility sector.
Read more: Hyzon to double hydrogen truck production in the Netherlands
Read more: Hyzon Motors delivers 29 hydrogen fuel cell trucks to China
The Hyzon vehicles delivered were heavy duty fuel cell truck models ranging in weight from 18 to 49 metric tonnes deployed for a variety of use cases.
These applications include refuse collection with a leading European supplier of refuse collection vehicles, sewer cleaning with European municipalities, and heavy-duty use cases such as steel coil haulage with the largest steel company in the world.
Additionally, the eight dump trucks that were deployed under trial leases in Foshan, a UN Hydrogen Demonstration City in China, are not included in the 87 vehicle deliveries.
Craig Knight, CEO and co-founder of Hyzon Motor, said, "Thank you to all of our customers, employees, suppliers, shareholders and supporters who helped us battle the global supply chain headwinds and better the expectations for 2021 deliveries.
"Each truck Hyzon supplies around the world is another step towards decarbonising commercial mobility.
"As Hyzon completes compliance and homologation requirements for vehicles in North America and Australasia, government support for hydrogen steadily grows, and commercial understanding of fuel cell electric vehicles' unique suitability for heavy transport increases.
"Hyzon aims to make 2022 a watershed year for hydrogen in heavy mobility."
The global hydrogen revolution for commercial vehicles is here, and Hyzon Motors is at the vanguard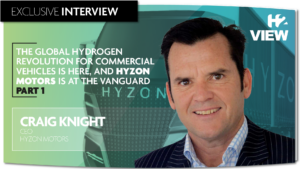 It was 2003 when Craig Knight, George Gu and Gary Robb set out on a mission to build the world's first profitable fuel cell company. Horizon Fuel Cell Technologies was established in Singapore that year, and has a founding story fuelled with curiosity, ambition and willingness to move forward in one of the most difficult technology spaces.
Technology-agnostic and commercially focused, Horizon's ambition was to achieve sustainable decarbonisation targets without relying on government subsidies, billions of dollars of private capital, and to create a profitable fuel cell company, in an industry that had not seen a profit in 30 years, and was still quite far from breaking through at the time.
Want to continue reading? Click here.