Hyzon Motors will deliver 70 of its hydrogen fuel cell trucks to Austrian supermarket chain MPREIS with the first delivery set to be made in 2021.
Revealed today (June 2), Hyzon has entered into a definitive agreement with MPREIS' hydrogen initiative JuVe and will utilise the trucks to decarbonise the company's logistic operations in the region.
The initial delivery is planned for Q4 of 2021, with the remaining trucks to be delivered over the course of three years.
The first batch of the hydrogen trucks will include tractor/puller and rigid chassis designs, both of which have been built to support refrigeration units.
Hyzon's hydrogen trucks will be assembled at the company's European facility in the Groningen area of the Netherlands, where orders have already been confirmed for deliveries of Hyzon branded commercial vehicles to several countries.
Read more: New Hyzon Motors technology enables higher efficiency in hydrogen trucks
Read more: Hyzon Motors launches leasing service for hydrogen-powered commercial vehicles in Europe
As well as this, the partnership marks a major milestone with MPREIS, owner of almost 300 stores in Austria, is taking further steps to decarbonise its operations and support the European tradition to a zero-emission society.
MPREIS is currently building its own hydrogen production facility near Innsbruck, Austria, as well as a network of hydrogen refuelling stations; the company has stated its intention to utilise hydropower to produce green hydrogen creating an ecosystem of renewable energy.
The companies have additionally signed a letter of intent to collaborate on the H2Alpin feasibility study which seeks to demonstrate fuel cell vehicles are suitable for alpine mobility.
The findings will include ecological and life cycle analysis that will guide future applications of hydrogen-powered passenger and commercial transport in the most challenging environments.
This is similar to a previous feasibility study conducted by Hyzon in Australia that demonstrated fuel cell vehicle suitability in extreme heat and in the presence of ultra-fine dust.
Craig Knight, CEO of Hyzon, said, "MPREIS has made an impressive commitment to the green hydrogen economy, and we are proud to partner with them in our shared goal of transitioning to a zero-emission reality.
"The MPREIS and Hyzon partnership is yet another proof point that demonstrates this transition can start today – the technology, the capital, and the momentum are ready."
The global hydrogen revolution for commercial vehicles is here, and Hyzon Motors is at the vanguard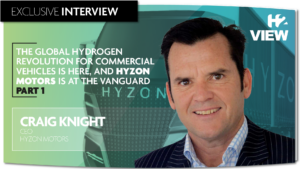 It was 2003 when Craig Knight, George Gu and Gary Robb set out on a mission to build the world's first profitable fuel cell company. Horizon Fuel Cell Technologies was established in Singapore that year, and has a founding story fuelled with curiosity, ambition and willingness to move forward in one of the most difficult technology spaces.
Technology-agnostic and commercially focused, Horizon's ambition was to achieve sustainable decarbonisation targets without relying on government subsidies, billions of dollars of private capital, and to create a profitable fuel cell company, in an industry that had not seen a profit in 30 years, and was still quite far from breaking through at the time.
Want to continue reading? Click here.