Hyzon Motors has revealed definitive purchase agreements today (June 3) to supply a total of 20 hydrogen fuel cell trucks to major Dutch company subsidiaries Jan Bakker Transport and Millenaar & van Schaik.
The hydrogen trucks will begin to be delivered in Q4 of 2021 with hopes that the rest of the order will be completed in 2022.
The vehicles, HyMax 450 Tractors are built on a class-8 DAF truck chassis and can travel up to 320 miles per refill with motor power up to 550kW capacity.
Hyzon say that it is the only company in the world that is offering hydrogen trucks up to 50 tonne gross vehicle weight (GVWR), with its in-house high power fuel cell technology.
Read more: New Hyzon Motors technology enables higher efficiency in hydrogen trucks
Read more: Hyzon Motors to deliver 70 hydrogen trucks to Austrian supermarket chain
Hyzon expects to manufacture the trucks in its European facility in the Groningen area of the Netherlands where orders have been taken for Hyzon branded hydrogen trucks around the world.
With this definitive agreement, Jan Bakker and Millenaar & van Schaik will become the first European construction companies to choose zero-emission trucks as part of an aim to convert its entire fleet, the company has said.
Millenaar & van Schaik is said to be one of the largest asphalt transport companies in the Netherlands.
Craig Knight, CEO of Hyzon, said, "We are excited to be engaging with transport and logistics organisations like Jan Bakker and Millenaar & van Schaik, to bring hydrogen fuel cell powered trucks to the Netherlands.
"These contracts further underline the interest in Hyzon's products in the European market, where we have seen strong uptake in zero-emission heavy vehicles."
The global hydrogen revolution for commercial vehicles is here, and Hyzon Motors is at the vanguard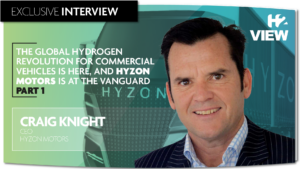 It was 2003 when Craig Knight, George Gu and Gary Robb set out on a mission to build the world's first profitable fuel cell company. Horizon Fuel Cell Technologies was established in Singapore that year, and has a founding story fuelled with curiosity, ambition and willingness to move forward in one of the most difficult technology spaces.
Technology-agnostic and commercially focused, Horizon's ambition was to achieve sustainable decarbonisation targets without relying on government subsidies, billions of dollars of private capital, and to create a profitable fuel cell company, in an industry that had not seen a profit in 30 years, and was still quite far from breaking through at the time.
Want to continue reading? Click here.