In a bid to expand hydrogen mobility in China, Shanghai Hydrogen HongYun Automotive has signed a memorandum of understanding (MoU) with Hyzon Motors for the purchase of 500 hydrogen-powered trucks.
In doing so, the trucks will be a part of a new zero-emission fleet that will help decarbonise the operations of HongYun's clients with the company offering a range of operation, leasing and maintenance services.
Read more: Hyzon Motors ramps up its hydrogen truck operations
Read more: Hyzon Motors' 154-tonne hydrogen truck to hit European roads
By providing an opportunity to decarbonise Chinese logistics through hydrogen-powered trucks, it is expected that this deal with provide a huge boost to Asian aspirations by supplying its trucks for the market.
As part of the agreement, Hyzon will provide its 49-tonne hydrogen-powered tractor trucks with an initial order expected before the end of 2021 with 400 then ordered in 2022.
Craig Knight, CEO of Hyzon, said, "Hydrogen fuel cell technology has been adopted more quickly in China than in the rest of the world.
"This allows Hyzon to begin the critical work of decarbonising the environment, while building experience, capacity, and expertise which will be applied globally."
The global hydrogen revolution for commercial vehicles is here, and Hyzon Motors is at the vanguard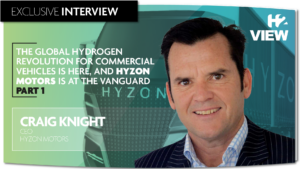 It was 2003 when Craig Knight, George Gu and Gary Robb set out on a mission to build the world's first profitable fuel cell company. Horizon Fuel Cell Technologies was established in Singapore that year, and has a founding story fuelled with curiosity, ambition and willingness to move forward in one of the most difficult technology spaces.
Technology-agnostic and commercially focused, Horizon's ambition was to achieve sustainable decarbonisation targets without relying on government subsidies, billions of dollars of private capital, and to create a profitable fuel cell company, in an industry that had not seen a profit in 30 years, and was still quite far from breaking through at the time.
Want to continue reading? Click here.