Green hydrogen is an important mean for stopping climate change and keeping global warming below the intended 1.5°C. Policymakers strongly support hydrogen technologies whiles companies explore the new business opportunities. Surprisingly, most discussions about the green hydrogen economy focus on the physical world. The digital world is still neglected.
Digital platforms especially transaction and IoT innovation platforms are shaping the digital world. Such platforms play a key role in many industries. They will also shape the green hydrogen economy. For example, Hyfindr.com, a transaction platform, has been recently launched. Hyfindr continues to ramp-up its marketplace to simplify the supply-demand of hydrogen products.
Over the last two years, we studied IoT innovation platforms in the green hydrogen economy. Such platforms rely on the Internet of Things (IoT) as the technology vision. IoT means that physical things, assets and/or products become smart, connected, capable to communicate. Data about product condition and usage can be easily exchanged between product providers and product users. Data can be now analysed through artificial intelligence and machine learning. The data trigger the innovation of digital services improving product usage and making product user more successful.
To let IoT platforms succeed, companies need to depart from their traditional innovation pipeline approach. IoT platforms evolve in three steps (see Figure 1):
Utilising data to improve existing services along the product life-cycle,
Utilising and converting data into digital services,
Sharing data with innovation partners in the platform ecosystem to develop complementary (digital) services.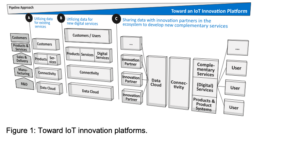 ... to continue reading you must be subscribed