ITM Power is set to provide a 2MW electrolyser to Sumitomo and Tokyo Gas for a joint hydrogen utilisation demonstration project at the Yokohama Techno Station.
Within the demonstration project, the groups will be verifying the operation of the large water electrolyser in what is set to be the first operational verification to be carried out in Japan with a foreign-made water electrolyser.
Tokyo Gas will install the water electrolyser and operate it under various operating conditions to understand the performance of the latest-generation water electrolysers.
This will also help to accumulate know-how on the introduction of large water electrolysers, including on equipment operation and construction of related facilities.
The hydrogen produced will be used for the research and development of hydrogen utilisation at Tokyo Gas Yokohama Techno Station with the aim of achieving decarbonisation.
The results from this demonstration will then be shared by the two companies and utilised for future business development.
Read more: ITM Power electrolyser order book up 131% in 12 months; plans in the pipeline for second GW-scale facility
Read more: ITM Power technology to produce green hydrogen at H2Pioneer plant in Austria
Hajime Mori, Energy Innovation Initiative Director at Sumitomo Corporation, said, "Sumitomo Corporation entered into a strategic partnership with ITM Power in 2018 and has been working to introduce the company's solid polymer water electrolyser into the Japanese market.
"ITM Power's advanced and cost-competitive electrolysis technology is set to drive green hydrogen production projects in Japan that use large electrolysers.
"At Sumitomo Corporation, we will continue to accelerate our efforts to build a hydrogen-based society with the aim of achieving carbon neutrality in 2050 and realising sustainable energy cycles."
Hisataka Yakabe, General Manager of Hydrogen and Carbon Management Technology Strategy Department of Tokyo Gas, said, "At the Tokyo Gas Group, we are strengthening our technological development for decarbonising gas-state sources of energy in order to fulfil our 'Challenge to Achieve Net Zero CO2' that we set forth in our management vision 'Compass 2030.'
"Through this demonstration, we will accumulate operational know-how on large water electrolysers, accelerate their social implementation in combination with the development of direct hydrogen utilisation and methanation technologies.
"This will contribute to achieving the government's goal of 'realising a carbon-neutral, decarbonised society by 2050.'"
From small steps to giant leaps and always staying ahead of the game: The story of ITM Power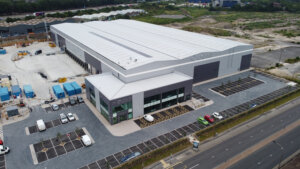 When it comes to electrolysers, there's one company which is never far from the headlines: ITM Power. Thanks to its focus on three broad markets areas – mobility, Power-to-X and industry, the British manufacturer of polymer electrolyte membrane electrolysers has grown considerably in recent years and moved into the world's largest electrolyser manufacturing facility in Sheffield, UK in January 2021.
Through standardisation, modularisation and the employment of world class practices, ITM Power has the manufacturing capacity to produce 1GW of electrolysis a year. The company says the Gigafactory provides a blueprint which can be easily replicated when there are large order volumes.
Want to continue reading? Click here.