Johnson Matthey has today (Jan 5) unveiled a new technology that is able to efficiently convert carbon dioxide and green hydrogen into sustainable aviation fuel.
Dubbed HyCOgen, the technology could be crucial in the widespread use of both sustainable aviation fuel whilst also growing the demand for green hydrogen to create it.
This could create an incentive to generate green hydrogen with buyers looking to create sustainable aviation fuel from it.
Read more: Johnson Matthey, Hystar partner to develop next generation electrolysers for hydrogen production
Read more: New hydrogen technology business launched by Johnson Matthey
The scalability of the integrated HyCOgen solution enables cost-effective deployment across a wide range of project sizes from small-scale, fed by hydrogen from a single electrolyser, through to world-scale with multiple large electrolyser modules.
This provides a basis to scale the technology to meet the growing demands of both green hydrogen production and the generation for the required sustainable aviation fuels for air transportation.
Jane Toogood, Sector Chief Executive of Johnson Matthey, said, "Given the challenges associated with new propulsion technologies and airport infrastructure, plus the long asset life of aircraft, there are significant hurdles in moving from hydrocarbon-based aviation fuel to alternatives such as battery electric or hydrogen.
"This is where Johnson Matthey's longstanding expertise and market-leading position in syngas generation technology can play a crucial role, by providing solutions that enable the production of sustainable drop-in fuels that are deployable today."
At the heart of the hydrogen economy: Johnson Matthey shares how its science and technology are driving the energy transition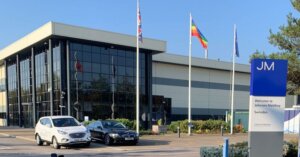 Johnson Matthey has been on a 200+ year journey from being a pioneer in the application of precious metals to a global leader in science for a cleaner, healthier world. With a long history in the refining of platinum group metals dating back to 1817, today Johnson Matthey's science and research touches some of the most pressing challenges faced by our planet and its people.
With the need to address climate change and reach net zero, it is clear emissions must be cut drastically from all areas of life, including sectors that are difficult to abate, such as heavy industry, heavy-duty vehicles, buses, trains and aviation. And with increasing recognition that hydrogen will play an important role in transforming these sectors, comes the challenge of deploying the technology at scale to support the shift to a hydrogen economy.
Want to continue reading? Click here.