Trinidad and Tobago will benefit from a new study being launched by KBR aiming to support the establishment of a green hydrogen market within the Caribbean nation.
Unveiled today (Dec 22), the contractual study will see KBR analyse strategies for maximising opportunities to establish a green hydrogen economy in Trinidad and Tobago whilst also undertaking supply and demand dynamics for green hydrogen generation.
This will also take into account the transportation of hydrogen in addition to its end use applications throughout the Inter-American Development Bank (IDB) funded study.
Read more: Trinidad and Tobago laying the foundation for a hydrogen economy
Read more: Trinidad and Tobago wants to create a hydrogen economy
The study will additionally identify opportunities for the development of a low carbon economy, with a roadmap to net zero through technological innovation.
It will assess the potential for green hydrogen production as well as the repurposing of the existing facilities for low carbon hydrogen with the assessment to include recommendations for a technical implementation plan.
Jay Ibrahim, President of Sustainable Technology Solutions at KBR, said, "This study builds on KBR's proud history of supporting Trinidad and Tobago's advancing focus on clean energy solutions – establishing itself as a leader in the regional hydrogen economy.
"The recent COP26 Summit brought into focus the threat of climate change on island nations.
"The opportunity to help the country meet its carbon reduction and sustainability targets firmly aligns with KBRs commitment of driving innovative solutions to support sustainability."
Inside Trinidad and Tobago's green hydrogen economy plans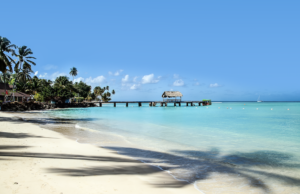 The southern Caribbean islands of Trinidad and Tobago are an exercise in beautiful contradiction. In Trinidad, pristine mangrove swamps and rainforested hills sit side-by-side with smoke-belching oil refineries and unpretty industrial estates. Tobago has everything you'd expect from a Caribbean island, with palm trees and white sand aplenty1 .
A major industrial centre in Trinidad and Tobago is the Point Lisas Industrial Estate, which is home to the majority of the country's heavy gas industries that include numerous ammonia plans and methanol plants; a natural gas-to-liquids processing facility; and two power stations. Most of this industry is dependent on natural gas which is produced offshore, mainly the east coast of Trinidad, and transported by pipeline across the island.
Want to continue reading? Click here.