In May 2021 Clean Sky 2 published its first Technology Evaluator1. One of its main conclusions is that "the main focus on decarbonising aviation should be on short-range aircraft flying distances of less than 4,000km, however with much larger passenger capacity, well over 300, even over 400 passengers in the cabin. This type of aircraft does not exist today." This article, however, will show that the ideal type of aircraft almost exists now if liquid hydrogen is the preferred fuel.
The need for large airliners optimised for flights of less than 4,000km was identified by the DLR (German Aerospace Centre) when it upgraded its air traffic model to include airport capacity constraints, etc. The chart below summarises the results, with the scope of '<4,000km' overlaid. Note that the chart shows the percentages of CO2 produced if all flights still used kerosene. The bottom line is that almost 60% of the CO2 produced by aviation will be removed if the '<4,000km' type of large airliner is powered by hydrogen.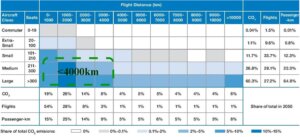 The current Airbus A350-900ULR provides the ideal starting point for the development of an 'A350-H' to meet the '<4,000km' requirement. The key reason is that its fuel tanks have already proved to be big enough to provide a range of over 16,000km when its engines are running on kerosene or SAFs (sustainable aviation fuels). The tanks are in the A350's wings, and will be replaced by new insulated tanks designed to contain enough liquid hydrogen to fuel flights of up to 4,000km.
... to continue reading you must be subscribed