It's great to see the buzz of events returning, albeit virtually for the time being. In the same week we've seen both Gastech return to the (virtual) stage and announce a new-for-2021 Hydrogen Zone next year, and here we have a keenly anticipated f-cell 'gathering' that's heating up over the digital ether.
Like many, we had planned to be in Vancouver this week to attend the show, with high hopes for what it had in store having been in Germany for the equivalent event in Europe this time last year.
More than 500 members of the hydrogen and fuel cell community gathered at the grand 19th Century Haus der Wirtschaft venue in Stuttgart for the f-cell conference in Germany last September, to discuss what the future of hydrogen and fuel cell technology will look like.
Momentum has only continued to build in the hydrogen and fuel cell community since then, but the aspect that has not been unchecked in 2020 has been travel and networking – largely curtailed at the hands of a Covid-19 pandemic that has sent shockwaves throughout the world. It certainly feels like a long time since my colleague and I were amidst the buzz of a thronging crowd in Paris at the HyVolution 2020 trade show in early February…
It's clearly been an eventful year, one that no-one could really have expected, and we all need to get back to making those connections, getting through that discussion and debate, and driving forward the hydrogen cause.
At H2 View, we're all about that discussion, debate and insight – as our engaging webinars and online news and exclusives demonstrate each and every day. We're all about making connections, and making things happen. We're the champion in hydrogen's corner, and we're very much the undisputed home of hydrogen news, views and analysis.
That's why we're delighted to be preferred media partner of f-cell+HFC Vancouver 2020, and that's why we're so pleased to see the strong support for the event straight out of the blocks of day one.
What a festival of content we're already reporting on from the event. It's clear that a few core themes are emerging, and firstly it's very much that widespread feeling that the time is now.
"2020 is the year that the decade of hydrogen energy really begins. In fact, it's when the era of hydrogen energy begins," Mark Kirby, President and CEO of the Canadian Hydrogen and Fuel Cell Association (CHFCA), had underlined as he opened f-cell+HFC 2020.
"Some of us were around in the late 1990s and early 2000s when there was excitement, perhaps exuberance about fuel cells. It was an amazing time for a nascent industry, but this is quite different. Today, we have governments and industry that are committed to net zero 2050 and recognise that hydrogen energy is an essential part of the solution."
Read more: CHFCA President and CEO opens f-cell+HFC 2020
This was a sentiment shared throughout the opening exchanges of the show, notably by Robert Artibise, Chairman of the Board of the Canadian Hydrogen and Fuel Cell Association (CHFCA), and Joy Romero, Vice-President of Technology & Innovation at Canadian Natural Resources Limited, for example who both participated in the Canadian Plenary Session.
Read more: f-cell+HFC: Hydrogen part of the pathway needed to achieve our climate targets
The emphasis on this critical moment only continued, including from Professor Alejandro Adem, President of the Natural Sciences and Engineering Research Council of Canada (NSERC), who had reflected on this 'exciting time for science and engineering research around the world' and taking advantage of 'this historic moment to reshape our world'.
Read more: f-cell+HFC: Huge acceleration of interest in hydrogen technologies in past decade
Making it happen
Another theme from the show is not just talking about why the time is now, but actively making it so – a core strand of discussion that has emerged across H2 View's many platforms this year, from our news and interviews to our many webinars. Tangible progress and calls to action are very much the order of the day.
Indeed, Romero had reflected on this very point in her talk, pointing to the huge progress underway in Canada as we speak.
"What's really important is that whilst a lot of countries are talking about creating a hydrogen economy, Canada is. You can't turn on the radio right now and not hear about Canada's plan for a hydrogen economy, and also Alberta's plan for the same," she said.
"Countries like Norway, the UK and others around the world, what they are doing is talking about what they are going to build. What I am sharing with you is what we have already built and had operating beneath our wings for several years in some cases."
Canada is certainly a strong case in point, something I'm very well aware of myself from many discussions with friends and colleagues in the industry – as well as that feeling on the ground, that vibe in the air and across the news from a visit to Vancouver last year. It's that combination of intent met with firm action.
Cost and scale
Closely linked to making things happen is of course the benefits of scale and cost competitiveness that come with that.
This has been one of those big talking points across H2 View this year, from our esteemed and insightful columns from the Hydrogen Council to discussions with industry insiders during our series of webinars in July and August.
It was unsurprisingly also something represented on day one of the f-cell+HFC 2020 gathering, as speakers from Kevin Colbow, Chief Technology Officer at Ballard Power Systems, to Bertrand Masselot, President and CEO of Air Liquide Canada, took to the virtual stage.
The January 2020 report from the Hydrogen Council – titled Path to Hydrogen Competitiveness: A Cost Perspective – revealed that the cost of hydrogen solutions will fall sharply within the next decade. As the scale up of hydrogen production, distribution, equipment and component manufacturing continues, cost is projected to decrease by up to 50% by 2030 for a wide range of applications, making hydrogen competitive with other low-carbon alternatives and even conventional options.
The study is based on real industry data, with 25,000 data points gathered and analysed from 30 companies, and has recently been serialised in three parts across H2 View magazine. From what we've seen and heard at f-cell+HFC 2020 yesterday, from Ballard to Air Liquide and many others besides, these references and data points are only growing; the build-out and roll-out is gathering pace and now we need even more projects to add to this chorus of activity.
Read more: f-cell+HFC: Scaling up to reduce costs and increase volumes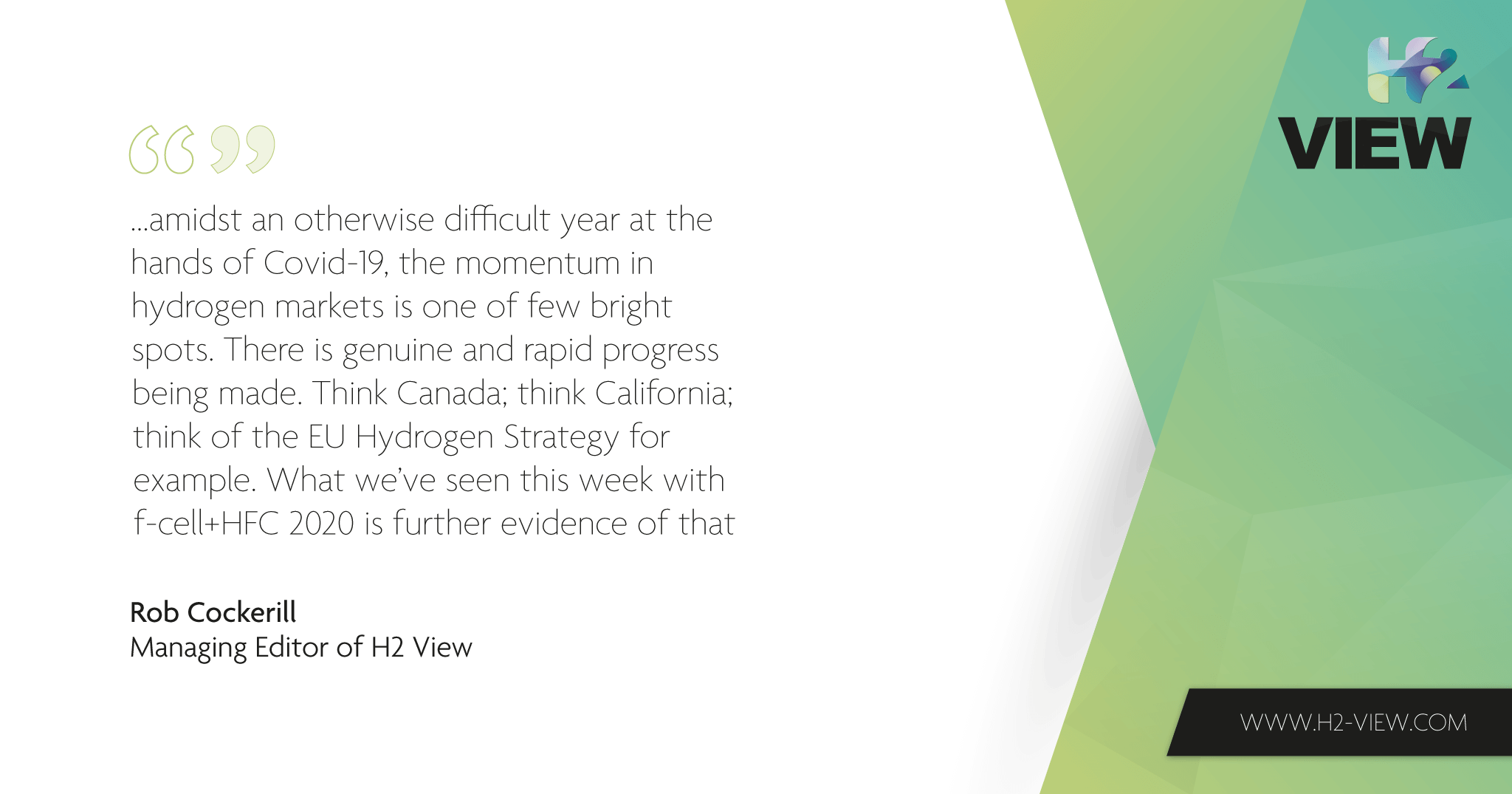 I've said many times in recent weeks and months that amidst an otherwise incredibly difficult, perhaps disastrous year at the hands of Covid-19, the momentum in hydrogen markets is one of few bright spots. There is genuine and rapid progress being made. Think Canada; think California; think of the EU Hydrogen Strategy for example. What we've seen this week with f-cell+HFC 2020 is further evidence of that. It's great to feel that buzz of events again too.
Now we need to keep bringing the calls to action and more importantly, keep acting upon them. We need more action backing up good intent. We need more examples like Canada around the world and more case studies to both build scale and those data points, but to proactively challenge public perception. The time is now, and the clock is ticking.