Mercedes-Benz is set to use fossil-free steel, produced using hydrogen, to develop prototype parts for its vehicles.
In a statement made today (September 1), SSAB and Mercedes-Benz have agreed a new partnership to introduce fossil-free steel in vehicle production as early as possible.
The first of these prototype parts for body shells is planned for next year and, by 2039, the Mercedes-Benz new passenger car fleet will become carbon-dioxide-neutral along the entire value chain.
Read more: HYBRIT technology delivers the world's first fossil-free steel to Volvo Group
Read more: Gigascale green hydrogen plant planned for northern Sweden
SSAB plans to supply the market with fossil-free steel at a commercial scale after the conversion of its Oxelösund blast furnaces to an electric arc furnace and by using HYBRIT technology.
This technology replaces coking coal, traditionally needed for iron ore-based steelmaking, with fossil-free electricity and hydrogen.
SSAB claim that this process virtually eliminates carbon dioxide-emissions in steelmaking.
Martin Lindqvist, President and CEO of SSAB, said, "We are extremely happy to welcome Mercedes-Benz as a partner for fossil-free steel products.
"Together, we are building an entirely fossil-free value chain all the way to the end customer.
"We are proud to reduce global carbon dioxide-emissions in collaboration with our new partner."
HYBRIT – A journey toward fossil-free steel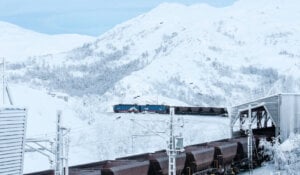 In 2016, SSAB, LKAB and Vattenfall joined forces to create HYBRIT – an initiative that endeavours to revolutionise steelmaking.
HYBRIT (Hydrogen Breakthrough Ironmaking Technology) aims to replace coking coal, traditionally needed for ore-based steelmaking, with hydrogen. The result would be the world's first fossil-free steel production technology, with virtually no carbon footprint.
During 2018, work started on the construction of a pilot plant for fossil-free steel production in Luleå, Sweden. The goal is to have a solution for fossil-free steel by 2035. If successful, the HYBRIT project alone could reduce Sweden's carbon dioxide (CO2) emissions by 10% and Finland's by 7%, respectively. Here, we take a look at this important effort to decarboninse the business of steelmaking and the fundamentals behind the HYBRIT project.
Continue reading here.