2022 saw a real shift in momentum behind hydrogen as a key decarbonisation tool for hard-to-abate sectors. With attention from both industry, governments, and the general public alike looking to mobility as a sector to have its emissions tackled by the energy carrier, the wheels look to be in motion.
Despite the numerous deployments of trucks and buses, as well as renderings of flashy cars, one truly notable moment come in the form of something a somewhat larger. In May (2022), global mining giant Anglo American unveiled its prototype of what it said was the 'world's largest' hydrogen-powered mine haulage truck.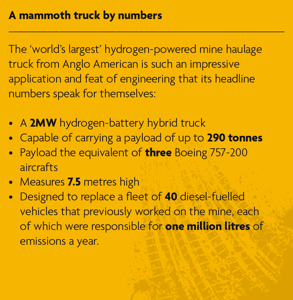 The 2MW hydrogen-battery hybrid truck is said to be able to generate more power than its diesel predecessor, and capable of carrying a payload of up to 290 tonnes. Forming part of the company's nuGen™ Zero Emission Haulage Solutions (ZEHS), offering a 'fully integrated' green hydrogen production, fuelling, and haulage system, the truck left its mark on the industry.
... to continue reading you must be subscribed