NanoSUN today (30th April) has revealed that its pioneer hydrogen refuelling station (HRS) has safely and efficiently filled up the tank of a hydrogen powered vehicle.
NanoSUN was judged to be the 'best start-up' business in the fourth edition of the New Energy Challenge back in 2019 making it the beneficiary of vital funding and support from Shell GameChanger.
Keen to prove the concept, NanoSUN took on the challenge to build a mobile HRS that is capable of storing 350kg of hydrogen and to use it to dispense the gas into a hydrogen powered vehicle.
Read more: NanoSUN wins New Energy Challenge
The partnership with Shell enabled NanoSUN to design, construct and now operate the pioneer HRS: a fully mobile, self-contained and automated hydrogen-refuelling station.
It offers an affordable way of delivering transportation-grade hydrogen to the point of use. Capital cost is significantly lower than a fixed HRS, as no compressor is required for dispensing the gas.
NanoSUN will continue to demonstrate the pioneer HRS in a number of different deployments throughout 2021 for a range of different end-user requirements.
Dean O'Connor, CEO of NanoSUN, said, "Participating in the New Energy Challenge has been a tremendous experience.
"Being able to develop the solution, build the first unit, and dispense hydrogen fuel into a vehicle in collaboration with one of the world's largest energy businesses has offered unique insights.
"We are excited by the successful outcome of the collaboration."
2019 in Review: NanoSUN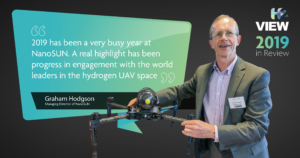 Bridging the gap between hydrogen suppliers and fuel users, NanoSUN develops innovative products that refuel, store, purify and analyse hydrogen safely, conveniently and economically.
With a vision for hydrogen to become the major energy vector in a decarbonised world, the UK company has had a "year of massive progress" in 2019, including winning Shell's New Energy Challenge.
In an exclusive interview with H2 View, Managing Director Graham Hodgson reflects on the past 12 months and tells us what the biggest highlights have been, as well as how the company is responding to trends, and what NanoSUN has in store for 2020.
Want to continue reading? Click here.