Coventry University is building a new £2m ($2.8m) hydrogen fuel cell development facility that will support the UK in its bid to become a leader in sustainable mobility.
The Centre for Advanced Low Carbon Propulsion Systems (C-ALPS) is set to oversee the construction of a dedicated 100 square metre hydrogen fuel cell lab that, alongside an upgrade of its powertrain test cells, will assess hydrogen power systems for use in environmentally friendly vehicles.
The new facilities will be housed inside a £50m ($70m) research centre that opened at the university's Technology Park in 2018 to accelerate the transport sector's progression to carbon-zero mobility.
Read more: Turning sewage waste into hydrogen
The transport sector is showing an increased interest in hydrogen fuel cell development with the zero-emission fuel source seen as crucial to global net-zero initiatives.
The upgraded facility will enhance C-ALPS' ability to engage and support sector leaders in the design, testing and manufacturing of pioneering new technologies.
Hydrogen is suited to heavy vehicles such as trucks, passenger coaches and buses due to the weight and refuelling time benefits that hydrogen fuel cells offer over other clean fuel sources, such as battery electric systems.
Construction of the new facility is expected to be completed by late August 2021 that will then provide researchers with state-of-the-art facilities to undertake fundamental and collaborative applied research.
Simon Shepherd, Director of C-ALPS, said, "Understanding both the science behind batteries, fuel cells and electric drives and the engineering which delivers them into a vehicle system, means that commercial partners can approach us with confidence that we can both understand the challenges they face and work with them to create truly innovative solutions.
"This is what makes C-ALPS unique in the UK.
"The latest investment is a massive step forward and a real show of commitment from Coventry University and our ambition to help the UK lead the world in clean mobility."
12 Days of Content: H2 MOBILITY Deutschland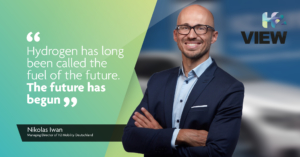 German joint venture H2 Mobility Deutschland is building a nationwide hydrogen refuelling station network that will link up Germany's key regions. The initiative has an ambitious goal of installing 400 hydrogen stations in Germany by the late 2020s. If H2 Mobility was to reach those numbers, it would signify the world's largest network of hydrogen stations.
The association's first interim goal is to operate 100 hydrogen stations in seven German metropolitan areas – Hamburg, Berlin, Rhine-Ruhr, Frankfurt, Nuremberg, Stuttgart and Munich – along with the connecting arterial roads and motorways, by the middle of next year. And H2 Mobility is well on its way to achieving this; there are currently 87 hydrogen stations open in Germany with a further four in planning, six in the approval phase and eight in the trial operation phase.
Want to continue reading? Click here.