Plug Power and the Renault Group have today (June 3) launched a joint venture to market turnkey hydrogen mobility solutions, including fuel cell-powered-light commercial vehicles and the supporting infrastructure, in Europe.
Called HYVIA, a contraction of 'HY' for hydrogen and the Latin word "VIA" for road, the joint venture has said its first hydrogen vehicles brought to market will be based on the Renault Master platform and should be available in Europe, accompanied with the deployment of charging stations and the supply of green hydrogen, by the end of 2021.
Delivering on this, HYVIA's process, manufacturing and logistics teams will be based in Flins, France, as part of the Re-Factory project. The company's head office, as well as the R&D teams, will be located at Villiers-Saint-Frédéric, France, with the light commercial vehicle engineering and development centre for Renault Group.
Read more: Renault to introduce first hydrogen light commercial vehicles
Commenting on the venture, Luca de Meo, CEO of Renault Group, said, As a pioneer in mew energies and the European leader in electric light commercial vehicles, Renault Group is pursuing its objective of having the greenest mix on the market by 2030 with the creation of HYVIA.
"This joint venture integrates the entire hydrogen mobility ecosystem in a unique way, form the vehicle to infrastructure and turnkey services for customers. The development of this cutting-edge technology will enable us to strengthen our industrial base and set up new value-generating activities in France in this promising segment."
Renault said the integrated HYVIA hydrogen technology will complement its E-TECH technology, increasing vehicle range to 500km with rapid recharging of three minutes. The company said such features are particularly well suited for light commercial vehicles.
Andy Marsh, CEO of Plug Power, commented, "Plug Power is a leader in solutions serving the hydrogen ecosystem, with over 40,000 fuel cell systems deployed, 110 charging stations deployed capable of distributing more than 40 tonnes of hydrogen per day. Plug Power is a technological leader in green hydrogen solutions by electrolysis. With HYVIA, we are bringing hydrogen mobility to France and Europe."
News of Renault's partnership with Plug Power initially broke in January when the companies announced their intention to launch a joint venture. Now established, the joint venture is equally owned by the two partners and chaired by David Holderbach from the Renault Group.
Read more: Groupe Renault and Plug Power to form joint venture in France
Celebrating the venture launch, Holderbach, said, ""Renault has been a hydrogen pioneer since 2014 with more than a hundred light commercial vehicles on the road. We are excited to join forces with Plug Power with its integrated solutions approach towards green hydrogen.
"HYVIA is now opening a new path towards decarbonation with a complete offering of hydrogen solutions. HYVIA builds on the complementary skills of Renault Group and Plug Power and will target a 30% market share in hydrogen powered light commercial vehicles in Europe by 2030."
The story of Plug Power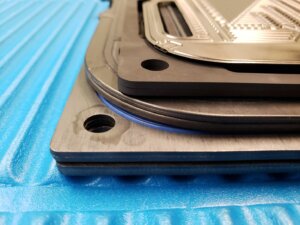 When Andy Marsh, CEO and President of Plug Power, first stepped foot through the company's factory doors in 2008, he never imagined he would be running a business that supplies the likes of Amazon and Walmart 13 years later, and a business that is on track to achieve $1bn in revenue by 2024.
Whilst success is strongly something that Plug Power oozes, the US fuel cell specialist's triumph is the result of years of hard work; something that Marsh strongly reaffirmed when he recently sat down with H2 View. "Plug has not been an overnight success; it's been a 25 year-long journey," he said.
"Personally, I can remember walking through the factory we had in New York and thinking to myself, 'How in the world am I going to fill this?' Fast forward to today, and Plug is producing green hydrogen to meet the needs of our customers. We have developed technology and entered into partnerships that have created a vertically-integrated portfolio that allows Plug Power to scale as we build the green hydrogen economy."
Continue reading here.