PowerCell Sweden's hydrogen fuel cell products are making great headway in the Oceania region.
Strengthening its market presence, the manufacturer today (August 26) announced ENGV as the new distributor and service provider for its products in Australia and New Zealand.
By marketing its solutions in Oceania, PowerCell will actively support Australia's launched National Hydrogen Strategy which aims to position the country's domestic hydrogen industry as a major player by 2030.
On the expansion, Andreas Bodén, Director Sales and Marketing at PowerCell Sweden, said, "Australia sees the huge potential in hydrogen and is making big efforts to establish a hydrogen-based and fully sustainable energy system.
"By having ENGV representing us in the important Australian market we will be in a very good position to benefit from the Australian efforts within the hydrogen sector."
As well as strengthening PowerCell's market footprint, the news also strengthens the company's withstanding partnership with ENGV.
ENGV is no stranger to the company's MS-100 fuel cell system, and in 2020 order the system for us in a hydrogen stationary power demonstration plant in Denham.
Sean Blythe, CEO and founder of ENGV, added, "Australia's high reliance on remote area diesel power generation creates a substantial opportunity for the Powercell Sweden's technology and ENGVs ability to containerise and localise for the unique Australia climate and market requirements.
"ENGV is very pleased to formalise our relationship and it will provide a pathway to zero emissions for many remote locations and communities."
The Policy Pillar – Australia: Dr. Alan Finkel on Australia's hydrogen ambitions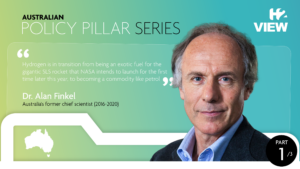 It was in mid-2017 that people started asking Dr. Alan Finkel, then chief scientist of Australia, about hydrogen. Back then, he wasn't quite the hydrogen evangelist he is today.
"I had just finished chairing the review of the Australian national electricity market. After the review finished, people literally asked me, 'Now that you've finished the electricity review, Alan, what are you going to do about hydrogen?' My initial answer was 'Nothing at all!' But the question wouldn't go away," Finkel, now Special Adviser to the Australian Government on Low Emission Technology, explained to H2 View.
Want to continue reading? Click here.