Shell is completely committed to hydrogen and clean energies, and its focus is very much on providing zero emission energy solutions to its customers.
That was the message from Oliver Bishop, General Manager of Shell Hydrogen, in an exclusive interview with H2 View.
Within the hydrogen space, that focus is on providing hydrogen to industrial customers and to transportation customers – and connecting and integrating that with the ways that hydrogen is produced.
Reinforcing Shell's commitment and credentials are a number of references on the ground.
As members of the public we're all familiar with the Shell footprint of conventional fuel filling stations, and possibly even its production and distribution plants around the world. We might be surprised by its growing hydrogen footprint too. The company has a whole portfolio of big and smaller-scale projects on the ground, from 'under the canopy' filling stations to large-scale green hydrogen production facilities.
Bishop has worked within the Shell group for more than 20 years, in a number of roles across the group in that timeframe, and has been the General Manager of Shell Hydrogen since early 2013. He was able to cite several examples of the company's hydrogen activities on the ground, from its three hydrogen filling stations in and around London at Cobham, Beaconsfield and at Gatwick Airport, to the near 40 hydrogen stations it has active in Germany.
There are also examples across California and Canada, while at less of a public-facing scale there exists a 10MW electrolyser project at a Shell refinery in Germany.
In February (2020), it was revealed that one of Shell's latest mega projects in hydrogen would see it joining forces with Gasunie and Groningen Seaports in the Netherlands to build a mega offshore wind farm and hydrogen plant in Groningen.
The 'NortH2' project plans to construct wind farms in the North Sea with a capacity of around 3 to 4GW of wind energy for hydrogen production before 2030, possibly growing to 10GW by around 2040. Bishop affirmed to H2 View that the project is still at feasibility study stage and not yet at FID (final investment decision) level.
He also confirmed the numbers behind the proposed project – that it would be capable of producing 800,000 tonnes of hydrogen by 2040, and avoid around seven megatonnes of carbon dioxide (CO2) to be abated.
Bishop spoke of this proposal as an example of both the collective stakeholder step forward that needs to happen in hydrogen – noting in our interview that Shell 'cannot do this on its own' – and the leveraging of various synergies, not least the proposal to utilise Gasunie's existing natural gas infrastructure.
"Gasunie is a very large pipeline operator in the Netherlands and as you said, the idea is by 2027 to have 3-4GW of wind energy and then take that wind energy, put it into a large electrolyser at Eemshaven, and put the resulting hydrogen into Gasunie's pipelines and move that hydrogen to where it can be best used, which is mostly in industry," he explained.
Bishop affirmed the study has "got a lot of interest" and "it's the kind of project the industry really needs to embark upon to substantially scale up and to start to get to meet some of those collective goals that society needs to achieve to meet the Paris Agreement."
So, what will it take to move the project towards FID status?
"Well, it's like many of the projects that we have taken FID on in hydrogen," he said. "For example we have a 10MW electrolyser which is complete in construction at the moment at our Germany refinery, and it's useful to understand that that is the largest PEM electrolyser in the world at present (though it may be overtaken by the time some people read this), and that'sat least a couple of order of magnitudes bigger [than this Groningen project]."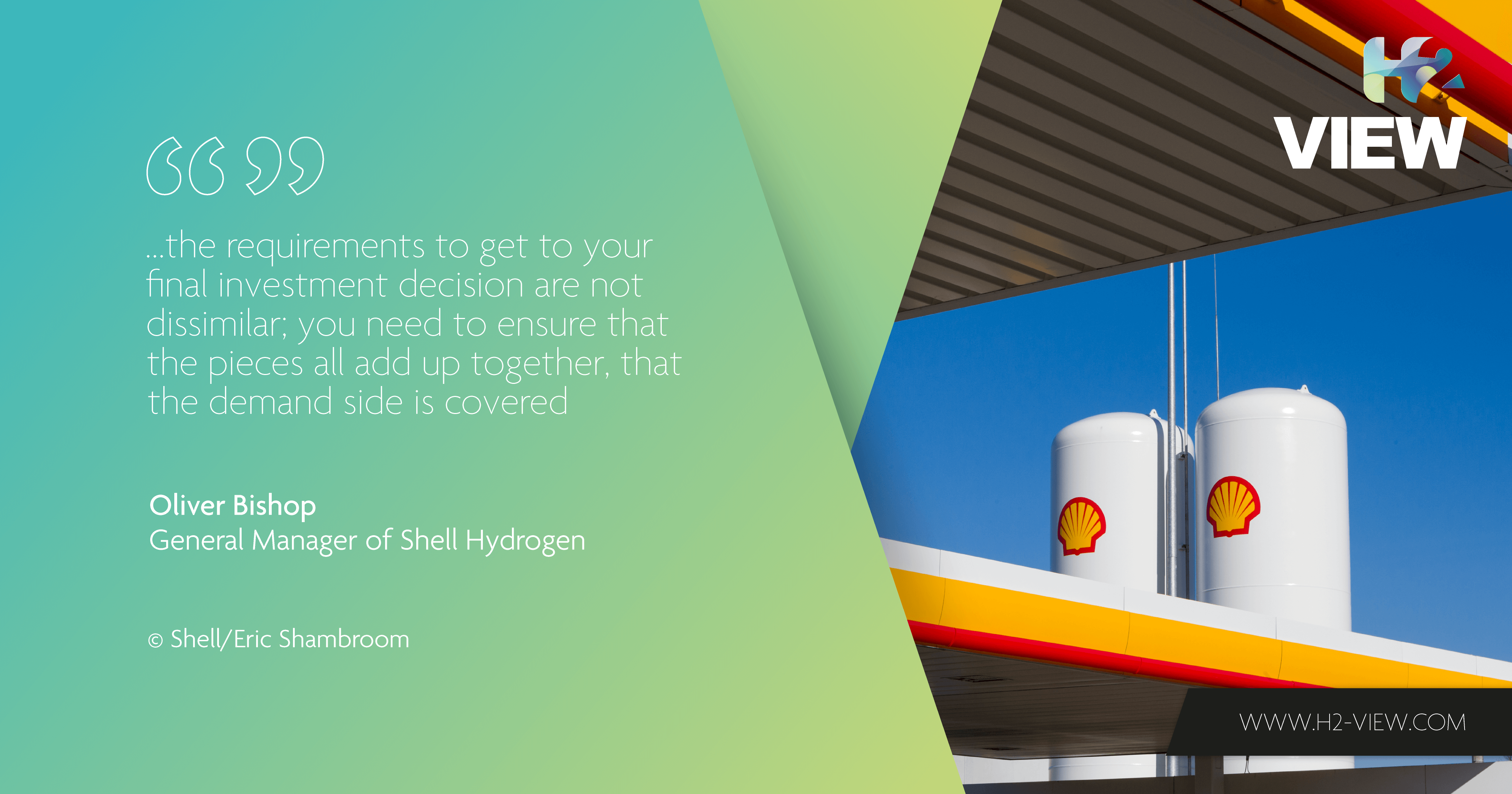 "So that puts the scale into context, but nevertheless the requirements to get to your final investment decision are not dissimilar; you need to ensure that the pieces all add up together, that the demand side is covered."
"There are often many things that need to fall into place," he added. "You need to get the pieces together, and we've shown that can happen on other opportunities within the hydrogen portfolio – and we have at the moment various hydrogen stations that are built and working today in various countries. We just follow the same process."
Exclusive interview
Look out for the full interview with Shell's Oliver Bishop, including his thoughts on the Hydrogen Council, the collective step forward required to move the hydrogen economy onwards, and the role of hydrogen in a post-coronavirus economic rebuild around the world.
The interview is available to subscribers on the H2 View website, as well as in the upcoming August edition of H2 View magazine.