Rockfin and Stargate Hydrogen have completed their first pilot project and signed a framework agreement for hydrogen production systems projects during the H2Poland Forum in Poznań.
The pilot project involved integrating a 10kW stack from Stargate Hydrogen's Stellar series into Rockfin's 'mini-Green Box' systems.
The mini-Green Box is billed as 'a compact and efficient hydrogen power system' that can be used for a variety of applications, including off-grid power and backup power for critical infrastructure. It is powered by Stargate Hydrogen's technology, which enables it to produce clean, reliable power with minimal environmental impact. Rockfin presented the module with Stargate Hydrogen's stack at the event, marking its second year.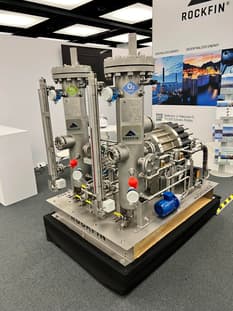 … to continue reading this article and more, please login, register for free, or consider subscribing to H2 View