Senator Charles Schumer has secured new hydrogen investments to support the development of Plug Power's green hydrogen production facility and electric substation at the New York Science, Technology and Advanced Manufacturing Park (STAMP).
A 1,250-acre mega-site, the development will be capable of producing 45 metric tonnes of green hydrogen a day. Complementing the company's existing Tennessee plant, the New York facility will use 120 MW of Plug Power's state-of-the-art PEM electrolysers to make the hydrogen using clean New York hydropower.
Now, alongside the hub, Senator Schumer has announced plans to push for new jobs and tenants at the site as he it transforms into a domestic hub for clean energy and semiconductor industries.
Welcoming Senator Schumer's effort, Andy Marsh, President and CEO of Plug Power, said, "The support of Sen. Schumer and Congress plays a key role in helping to bring affordable hydrogen to the market.
"We appreciate their leadership on the Infrastructure Investment and Jobs Act, which will help to promote the production and deployment of green hydrogen."
Senator Schumer, added, "The WNY STAMP Campus is the perfect place to establish the next global hub for the semiconductor and clean energy industries.
Investment in Plug Power hydrogen production site is valued at $290m. It is hoped the company's efforts will help lead the way to decarbonising freight-transportation and logistics, whilst supporting the Empire State's path to achieving carbon-neutrality by 2050.
The story of Plug Power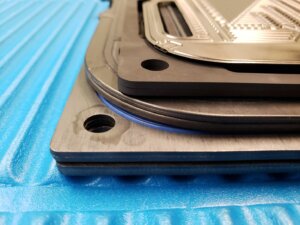 When Andy Marsh, CEO and President of Plug Power, first stepped foot through the company's factory doors in 2008, he never imagined he would be running a business that supplies the likes of Amazon and Walmart 13 years later, and a business that is on track to achieve $1bn in revenue by 2024.
Whilst success is strongly something that Plug Power oozes, the US fuel cell specialist's triumph is the result of years of hard work; something that Marsh strongly reaffirmed when he recently sat down with H2 View. "Plug has not been an overnight success; it's been a 25 year-long journey," he said.
"Personally, I can remember walking through the factory we had in New York and thinking to myself, 'How in the world am I going to fill this?' Fast forward to today, and Plug is producing green hydrogen to meet the needs of our customers. We have developed technology and entered into partnerships that have created a vertically-integrated portfolio that allows Plug Power to scale as we build the green hydrogen economy."
Continue reading here.