Shell has awarded Australia-based Worley a services contract to support the development of a new 200MW electrolysis-based hydrogen plant in Rotterdam, the Netherlands today (June 1).
The new plant will be powered by renewable energy from an offshore windfarm that is currently in development and, once complete, the green hydrogen plant will be one of the largest commercial green hydrogen production facilities in the world.
Operations will begin by 2023 and the plant is estimated to produce around 50,000 to 60,000kg of green hydrogen per day that will initially be used to decarbonise Shell's nearby refinery in Pernis, and support the industrial use of hydrogen in heavy transportation.
Read more: Shell wants to create a green hydrogen hub in the port of Rotterdam
Read more: Shell, Eneco win tender for offshore wind farm that will power green hydrogen plant
Worley, under the terms of the contract, will provide early engineering services for the green hydrogen plant including integration with other assets such as offshore wind, pipelines, electrical grids and the Shell Pernis refinery.
The services will be implemented from Worley's offices in The Hague with support from the company's global hydrogen subject-matter experts and global integrated delivery team in India.
Chris Ashton, CEO of Worley, said, "As an Australian company operating globally, we are pleased to be working with Shell on this first-of-its kind project.
"We look forward to supporting Shell's strategy to be a provider of net-zero emissions energy products and this project is an example of how Worley can help our customers achieve their goals and own purpose of delivering a more sustainable world."
Exclusive webinar: H2 View in conversation with Shell Hydrogen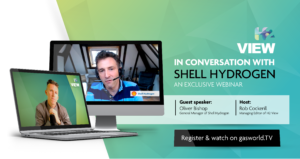 Fresh from the celebrations of its first year anniversary this week, H2 View delivers its first webinar this afternoon as it brings viewers an exclusive interview with Shell Hydrogen's Oliver Bishop.
In addition to celebrating that milestone this week, today H2 View breaks new ground as it moves into its second year, with the launch of H2 View webinars.
Though a brand-new three-part series of H2 View webinars begins next week, this afternoon will see H2 View begin the move into the webinar space with in exclusive conversation with Shell to discuss its footprint in hydrogen, whether its investments in the hydrogen space are as serious as its statements suggest, and what the hydrogen space needs to keep moving forward and realise its potential.
Want to continue reading? Click here.