With a greater need to reduce carbon emissions in the mobility sector, Southern California Gas (SoCalGas) will look to decarbonise its over-the-road fleet with hydrogen variants.
This will be achieved through a new agreement revealed today (September 1) with Hyzon Motors that aims to replace the fleet with electric and hydrogen fuel cell variants by 2035.
Read more: SoCalGas submits clean hydrogen projects to DOE's "Earthshot" initiative
Read more: SoCalGas to introduce hydrogen to achieve net zero by 2045
As part of the new partnership, Hyzon will deliver Class 3 commercial service body utility truck to SoCalGas by 2022.
The truck is expected to reach a maximum power of 200KW, with a range of 300 miles and will be built on the existing chassis OEM used by SoCalGas, minimising the updates needed for operations, servicing, and training.
Sandra Hrna, Vice-President of Supply Chain and Operations Support at SoCalGas, said, "Our partnership with Hyzon Motors on this initial fuel cell electric truck represents an additional potential solution to help us accelerate our transition to a zero emissions fleet by 2035.
"The transportation sector accounts for the largest percentage of greenhouse gas (GHG) emissions in California.
"The men and women of SoCalGas drive approximately 32 million miles each year in company vehicles and we believe it is our responsibility and focus to decarbonize our over-the-road fleet."
The global hydrogen revolution for commercial vehicles is here, and Hyzon Motors is at the vanguard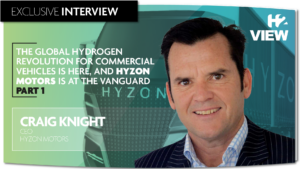 It was 2003 when Craig Knight, George Gu and Gary Robb set out on a mission to build the world's first profitable fuel cell company. Horizon Fuel Cell Technologies was established in Singapore that year, and has a founding story fuelled with curiosity, ambition and willingness to move forward in one of the most difficult technology spaces.
Technology-agnostic and commercially focused, Horizon's ambition was to achieve sustainable decarbonisation targets without relying on government subsidies, billions of dollars of private capital, and to create a profitable fuel cell company, in an industry that had not seen a profit in 30 years, and was still quite far from breaking through at the time.
Want to continue reading? Click here.