South Korea is aiming to support the production of hydrogen by slashing the price of domestic natural gas to be used in hydrogen production by 25%.
The South Korean government hope this will accelerate the production of domestic hydrogen which can, int urn, be utilised in hard-to-abate industries for decarbonisation purposes and transportation.
Read more: South Korea to commercialise hydrogen trams from 2023
This could enhance the hydrogen ecosystem in the nation and support targets that aim to make the region carbon neutral in the future.
With an increase in the production of blue hydrogen, South Korea could benefit from an accelerated introduction of hydrogen fuel cell vehicles that will reduce carbon emissions in the transportation sector.
Moving at scale and speed: South Korea betting big on hydrogen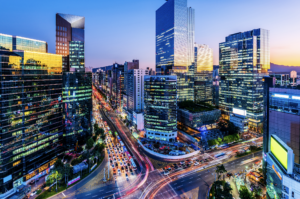 South Korea is betting big on hydrogen. The country is moving at scale and speed to develop a hydrogen economy, with incentives and initiatives to encourage the production, import and consumption of hydrogen. Although hydrogen has a wide variety of applications, Korea is giving the highest priority to the mobility and power generation spaces.
The country's largest automotive company, Hyundai Motors, launched the world's first commercial fuel cell electric vehicle (FCEV) in 2013 and the first fuel cell truck in 2020, and the country accounts for fully one-third of the world's installed capacity of utility-scale stationary fuel cells.
Want to continue reading? Click here.