How to analyse a market that doesn't exist (yet)? – Mapping the emerging hydrogen economy is the name of the game at Austria-based Delphi Data Labs.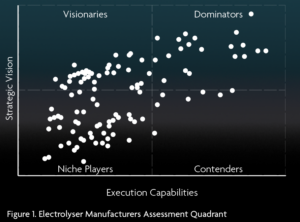 The start-up was founded by two former market intelligence managers of a major publicly-listed cleantech corporation, where the founding duo designed and implemented a data-driven and dashboard-based business intelligence framework to assess market conditions and competitors for various technologies.
Due to a lack of cost-efficient and high-quality market intelligence solutions for industrial corporations on offer, Lukas Strohmeier and Miroslav Negovan decided to launch a start-up to tackle this issue. 
Based on years of professional experience as a 'customer', the products of Delphi Data Labs are designed to support decision-makers in the industrial manufacturing industry and to ease the workload for market intelligence teams.
... to continue reading you must be subscribed