Strike Energy today (Sep 15) said it wants add a 10MW electrolyser capable of producing 1,825 tonnes per annum of green hydrogen to its fertiliser production facility near Geraldton in Western Australia's Mid West Region.
The energy and fertiliser firm is currently developing the project, dubbed Project Haber, which it says once completed would produce 1.4 million tonnes per annum of urea fertiliser and would replace Australia's reliance on more than A$1bn of fertiliser imports each year.
By combining the hydrogen supplies with Strike's lower carbon natural gas from the Greater Erregulla region, Strike said it will produce what is projected to be some of the lowest carbon urea fertiliser available in the market.
Strike said Project Haber has the potential to be Australia's largest industrial consumer and is designed to produce and consume 141 kilotonnes per annum of hydrogen.
"Incorporating green hydrogen in Project Haber's urea production process will enable Strike to produce some of the lowest carbon urea possible and potentially create one of Australia's  largest carbon sinks, moving Strike into carbon negative territory," Strike Energy CEO and Managing Director Stuart Nicholls said.
Strike said it will look to increase the green hydrogen feedstock of the plant with other sources of green hydrogen from developers and suppliers in the Mid West region.
The company has inked two deals with ATCO and Infinite Blue Energy for collaboration on the Mid West infrastructure (power transmission, desalinated water, pipeline corridors, etc) and green hydrogen offtake.
The development of such infrastructure has the potential to improve the scale and speed of other projects in the region as Western Australia's hydrogen economy looks to grow.
Infinite Blue Energy CEO Stephen Gauld said the signing of the Memorandum of Understanding (MoU) is evidence of the growing demand in industry for green hydrogen domestically, which reflects the growth in the market potential being experienced overseas.
"The potential for renewable hydrogen as a pillar of a cleaner economic transformation is being recognised throughout the world with government policy positions and a growing commitment from large industry to decarbonise incentivising investment in large-scale hydrogen projects as carbon neutral forms of energy," he said.
"Infinite Blue Energy is on a pathway to producing 265 tonnes per day of green hydrogen for domestic and export markets from its Arrowsmith Hydrogen Plant in Western Australia."
Infinite Blue Energy will develop its Arrowsmith Hydrogen Plant in three stages with the first stage of 25 tonnes per day of green hydrogen being produced during late 2024.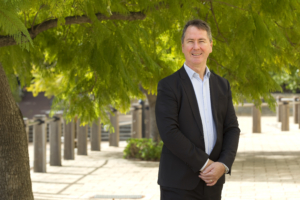 Infinite Blue Energy: Fuelling the future with green hydrogen
Infinite Blue Energy (IBE) wants to enable a sustainable green hydrogen future from water, solar and wind energy, with no carbon debt. At the centre of this vision is Stephen Gauld, IBE's founder and Managing Director. With more than 20 years' experience in the oil & gas sector, Gauld believes this was the right time for IBE to enter the market.
"Covid-19 has opened the world's eyes to our reliance on fossil fuels and the need to move to renewable energy. In the last two months we've achieved a 10% reduction of global CO2 emissions due to the fact that no one is able to travel at the moment," Gauld told H2 View.
Read the full interview here.