String Megaregion has received €12,4m from the EU to build a cross-border network of 12 hydrogen refuelling stations for trucks and cars.
The EU programme, Connecting Europe Facility (CEF), granted the funds for the 'Greater4H' hydrogen infrastructure project, which aims to spur the shift from diesel to hydrogen across Germany, Denmark, Sweden and Norway for heavy-duty road transport.
The new hydrogen infrastructure will make it possible to scrap diesel trucks from 2025 and allow for other hydrogen-driven vehicles to refuel on the network.
String Megaregion is a membership organisation connecting local and regional governments from the four European countries.
Three private partners, GP Joule, Everfuel and Hynion, will build the hydrogen refuelling stations, which will be located between Hamburg and Oslo.
Hynion will establish two hydrogen stations in Malmö and Gothenburg, and it is also planning a station in Oslo that will mark the end of the corridor from Hamburg, up through Denmark and western Sweden to Norway.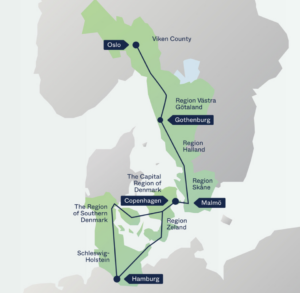 Quantron, Ørsted and Renova have also joined Greater4H as associated partners to contribute with perspectives on the supply of green hydrogen, fuel cell technology, and end-user perspective as operators of hydrogen trucks.
The project was developed under the String chair of Land Schleswig-Holstein, which will coordinate the project as lead partner.
A hydrogen vehicle refuels in 3-to-12 minutes, making it possible to transport goods and people without the logistical challenges of charging battery-operated alternatives.
Moreover, hydrogen vehicles are silent, and their only by-product is water. By establishing the refuelling infrastructure, project partners provide the opportunity to put an end to the era of fossil fuels and eliminate hazardous particle pollution and carbon dioxide (CO2) emissions from the transport sector.
The project aims to accelerate the deployment of hydrogen vehicles in the entire region and make Northern Europe a global frontrunner in the green transition of road transport, including projects such as HyNor, CUTE, Utsira wind/hydrogen, CEP Berlin, SHHP, NewBusFuel and H2ME.
Read more:  Hynion partners with PDC Machines to scale hydrogen refuelling
Read more:  Hynion to build two new hydrogen stations in Sweden
Meanwhile Everfuel has opened a new hydrogen refuelling station at Alnabru in Oslo, supporting its ambition of rolling out a hydrogen infrastructure across Northern Europe.
The capacity of the station will gradually be scaled up to meet increased requirements from expanding fleets of hydrogen vehicles.
In 2020 Everfuel won a tender from Oslo Municipality with the ambition of building an energy station in the Oslo area. 
CEO Jacob Krogsgaard said,  "It is our second station in the Oslo area, and we are happy to offer more flexibility for the ones driving hydrogen vehicles in the Norwegian capital. As more zero emission vehicles are launched, we will expand the station's capacity, so that even more cars and trucks can run on green fuel without any nuisance from noise or emissions."
Petter N. Christiansen, Mobility Advisor at Klimaetaten, said the station will ensure that hydrogen passenger vehicles and taxis have better fuelling options in the capital area.
"In the longer run, the station will play a key role in transitioning the heavy-duty vehicles to run on hydrogen. It is vital to succeed with changing fossil-based trucks and busses to zero emission fuels if we are to reach our ambition of reducing the city's emissions with 95 % before 2030," he said.