Toyota entered a hydrogen-powered engine Corolla in the five hour long Super Taikyu Series 2021 on Saturday (Sept 18).
Developed as a means to achieve net zero emissions in the mobility sector, hydrogen powered the racing car that participated in round five under the ORC Rookie racing banner.
Read more: Toyota to launch hydrogen-powered Corolla and Prius in 2023
Read more: Toyota unveils new compact hydrogen fuel cell system module
By participating in the race, Toyota is showcasing to the world the benefits of a hydrogen-powered engine.
Having already using a hydrogen-powered engine in the Fuji Super TEC 24 hour race, the information gathered from the competitions will be used to produce better engines in the future.
Hydrogen produced by Australian lignite powered the vehicle with the hydrogen being transported to and within Japan through a new partnership between Kawasaki Heavy Industries, Iwatani Corporation and Electric Power Development.
Exclusive: Toyota bullish on hydrogen as a pathway for zero-emission mobility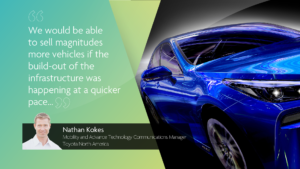 Few could argue that Toyota isn't at the forefront of the current hydrogen mobility movement.
It's flagship vehicle, the Mirai, is almost synonymous with the hydrogen-fuelled vehicle network today. Since its arrival in 2014, over 10,000 models of the Mirai have been sold world-wide and it remains one of only six fuel cell electric vehicle (FCEV) models in commercial production.
It's also often this sleek saloon car that's the subject of lavish liveries and demonstrative decals carrying an organisation's message of clean mobility far and wide; most of us will be familiar with a high-profile publicity launch featuring a Toyota Mirai emblazoned with some sort of branding.
Want to continue reading? Click here.