UK Prime Minister (PM) Boris Johnson reshuffled his cabinet this week and it's positive news for the hydrogen industry as the table now has more pro-hydrogen ministers sitting around it.
The ministerial reshuffle saw Anne-Marie Trevelyan MP leave the Department for Business, Energy & Industrial Strategy (BEIS) and be replaced by Greg Hands, MP for Hammersmith and Fulham.
Previously working for the Department for International Trade, it was through this brief Hands developed strong connections across Europe, which Rob Dale, founder and Director of Beyond2050, said will be useful for the UK hydrogen businesses looking to export to the continent.
Dale said Hands hasn't said much about hydrogen in Parliament, but recently visited Poland where he tweeted about working together "on green technology like offshore wind & hydrogen".
Additionally, Simon Clarke, MP for Middlesbrough South and East Cleveland, has become Chief Secretary to the Treasury.
Since 2018, Clarke has advocated for Teesside to lead, in his words, "the hydrogen energy revolution".
Rachel Maclean MP, who was minister for decarbonisation at the Department for Transport, has moved to the Home Office and is replaced by Trudy Harrison MP, formerly the principal private secretary to the PM.
Speaking to H2 View, Dale said, "Officials spent years drafting proposals for the future of social care, in the end the final plan was written by the PM, Chancellor and Health Secretary working late in the night. This shows that ultimately, the big decisions are made and driven through by ministers.
"Having more cabinet ministers at the top table who are outspokenly pro-hydrogen will help to accelerate further the government's policy and funding progress on this Net Zero and job creation policy."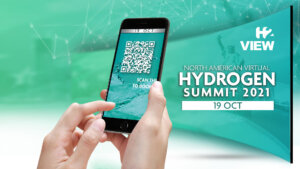 US DOE, General Motors, Microsoft and Plug Power
What does the US Department of Energy (DOE), General Motors, Microsoft and Plug Power have in common? They're all speaking at H2 View's North American Virtual Hydrogen Event in October. Will you be joining us on October 19?
North America is in a prime position to lead efforts in decarbonisation, but it still has great distances to travel. The region has been giving chase in a race to green hydrogen dominated by Europe and Asia-Pacific. If policymakers and industry can work together and take the right steps to realise a hydrogen vision, the region is perfectly placed to expand its global energy leadership at scale and speed.
What lessons can be learned from Europe's policymakers? What are the challenges to be overcome? What are the strengths and opportunities? How can North America go from giving chase to taking a lead in hydrogen? These are all questions our virtual event will address across H2 View's four pillars of Mobility, Power, Policy and Technology.
Further information on the event, agenda and confirmed speakers can be found here.
To book your virtual delegate pass, click here.