Unitrove has revealed the world's first liquid hydrogen bunkering facility that is set to supply zero-emission vessels, the company said at COP26.
The company has stated that the facility will be vital in providing zero-emission fuel for the international shipping industry with it revealed at the City of Glasgow's College's Riverside Campus.
Read more: Unitrove to deliver liquid hydrogen bunkering facility for zero-emission shipping
Liquid hydrogen provides a significant opportunity to reduce carbon emissions in the shipping industry, a significant sector that requires acceleration of zero-emission solutions.
Steven Lua, CEO of Unitrove, said, "The global maritime sector is one of the most polluting in the world. It's estimated that just a handful of the worst-polluting mega ships on our oceans today produce more pollution than all the world's cars put together.
"That's a staggering statistic, and one we simply cannot ignore.
"To achieve net zero by 2050 needs the combined will of the industry and governments. As well as building new vessels, we need to ensure the infrastructure is in place.
"At this moment in time, there's no clean-fuel bunkering infrastructure – it's practically non-existent.
"Without zero-emission fuelling infrastructure, the drive for zero-emission ships will falter. In terms of infrastructure, there's nothing significant in place today, but we are here to change that.
"The average lifespan of a large ship is anywhere between 20 to 40 years, meaning any ship procured today could potentially still be operating well beyond 2050."
Hexagon Purus' expansion of hydrogen into maritime applications, CEO Morten Holum reveals all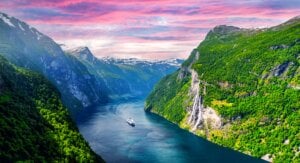 "The maritime industry is looking for a solution for decarbonisation, and with the exposure we have had in this sector, we think we can provide those solutions with hydrogen."
Those were the words of Morten Holum, CEO of Hexagon Purus, when he recently sat down to tell H2 View about the company's new hydrogen maritime division, Hexagon Purus Maritime.
The establishment of Hexagon Purus Maritime will see the group's zero-emission hydrogen technology be applied to the maritime industry, with Norway being the initial focal point from the onset. This is due to the nation having some of the strongest maritime technology industries in the world.
Want to continue reading? Click here.