Leading vehicle manufacturers BMW, Hyundai, Stellantis and Toyota have urged the European Commission to help drive development of an expanded hydrogen station network in Europe.
In a letter addressed to Frans Timmermans, Executive Vice-President for the European Green Deal, the companies confirmed their commitment to developing fuel cell passenger cars and the light commercial vehicle market, but said this will require further expansion of the 700bar refuelling network.
Read more: Frans Timmermans: The time to act is now
In conveying such commitment, the group expressed the important role hydrogen can play in the decarbonisation of transport – a point which is also backed up by various studies mentioned within the document.
"Recent developments confirm that hydrogen will play an important role in the decarbonisation of transport, notably in road transport, and contribute to many countries' economic recovery," the letter reads.
"Analyses also show that hydrogen in road transport has significant customer advantages because of fast refuelling for high utilisation/long distance and large-volume vehicle applications, including light and heavy-duty vehicles.
"Unleashing this potential will require scaling up hydrogen production, distribution and utilisation. This in turn will bring down costs – key for economic viability."
In recognising the role that hydrogen fuel cell electric vehicles have and will continue to play in Europe, the letter highlights that such vehicles will run on complementary to battery electric vehicles.
Read more: BEVs vs FCEVs: What way will the automotive go, as the world goes green?
Focusing on hydrogen vehicles, the letter continues, "For higher range, high frequency and high gross vehicle weights, fuel cell electric vehicles become increasingly advantageous."
"OEMs can create major scale effect major scale effects for hydrogen components in the passenger car and light commercial vehicle market due to the market volume. Fuel cell buses, trucks and other applications will in turn massively benefit from synergies with these applications: The same fuel cell system that power a passenger car can be utilised in light commercial vehicles and other applications.
"By multiplying the system, using in fuel cell buses, trucks and other applications are also possible. These synergies are much easier to achieve than for combustion engine drivetrains.
"The undersigned OEMs are dedicated to further develop the fuel cell passenger car and light commercial vehicle market. This in turn, will require an expansion of the established (and proven) 700bar refuelling network. The combined roll-out of a common hydrogen infrastructure offering both refuelling options for passenger cars and light commercial vehicles, as well as heavy-duty trucks, can create enormous synergies."
Concluding the letter, the vehicle manufactures stated, "For all these reasons, the undersigned OEMs request your continued commitment to expand the existing 700bar public hydrogen stations network across Europe."
Hydrogen stations explained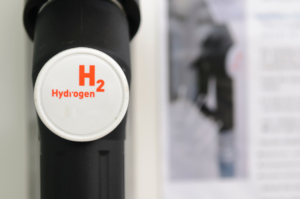 Instead of exhaust fumes, the only emission from a hydrogen vehicle is water vapour. And that's pretty much the only change for the driver.
The range of a hydrogen fuel cell electric vehicle (FCEV) is similar to a combustion engine, the fuelling process is still with a classic fuel pump, and the time taken to refuel is just like a conventional petrol or diesel car: three to five minutes.
The number of hydrogen refuelling stations worldwide has more than doubled in the last five years, marking the path towards more widespread commercial deployment. Geographical analysis by H2stations.org, an information service of Ludwig-Bölkow-Systemtechnik (LBST), showed the expansion of the hydrogen refuelling infrastructure has mainly been taking place in Asia and Europe. In North America, development is concentrated in California in the US and, more recently, British Columbia in Canada. According to data from H2stations.org, there were 434 stations in operation worldwide at the end of 2019.
Want to continue reading? Click here.