Westport Fuel System, AVL List and TUPY has joined forces to develop a highly efficiency hydrogen internal combustion engine (ICE) for heavy goods transportation – and they want it to be the world's most efficient.
Formalising the partnership today (July 7), the trio said they hope to combine advance material and casting technologies with the latest hydrogen ICE technology using high pressure direct injection (HPDI).
The collaboration follows Westport Fuel Systems earlier this year trialling it's heavy-duty international combustion engine in Vancouver, Canada.
Read more: New hydrogen-fuelled internal combustion engine under trial
When compared to fuel cell technology, which is a key focus in the hydrogen mobility market, hydrogen ICEs enable carbon neutral transportation by utilising existing base engine technology.
Commenting on the collaboration, Fernando de Rizzo, CEO of TUPY, said, "We believe our technical expertise and collaboration with customers and universities enable us to play an important role in decarbonisation.
"We are studying new materials, geometries and machining that can improve the performance of new alternative, low carbon, fuels. It is very rewarding to partner up with AVL and Westport in this search for a carbon-free, cost efficient transport solution."
Powertrain efficiency will be a key success factor to ensure affordable hydrogen truck and bus solutions. To ensure this, and improve fuel consumption of current spark ignited hydrogen ICEs, TUPY, Westport and AVL will work on the development of an HPDI hydrogen-ICE.
On the development, David Johnson, CEO of Westport Fuel Systems, said, "Hydrogen HPDI offers OEMs a fast, cost-efficient pathway to carbon-neutral technology, without sacrificing performance.
"Our collaboration with AVL and TUPY aims to further demonstrate that a hydrogen HPDI solution can meet the performance and efficiency requirements demanded by the market, while leveraging billions of dollars of existing manufacturing and engine expertise developed over the past century.
"HPDI is already successfully powering thousands of trucks today, reducing and/or nearly eliminating greenhouse gases on a proven technology platform."
Rolf Dreisbach, Executive Vice-President of Truck and Bus of AVL, added, "Our experts are very actively working on CO2-neutral solutions which can enter the market by 2025 – among them is the hydrogen ICE.
"The fast introduction of this technology will help accelerate the build-up of hydrogen fuelling infrastructure. With our expertise in latest ICE technology, TUPY's material and casting know-how and Westport's superior gaseous fuel system technologies, we expect to achieve outstanding levels of power density, efficiency with competitive total cost of ownership."
In focus: Westport Fuel Systems' hydrogen-fuelled internal combustion engine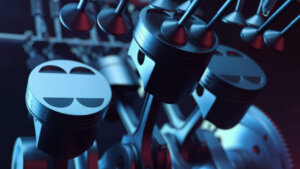 When Westport Fuel Systems announced in March that trials of its brand-new heavy-duty internal combustion engine running on hydrogen fuel were underway, the clean transportation technology company received a staggering response.
Utilising the company's patented and proprietary High Pressure Direct Injection (HPDI) 2.0™ System, the heavy-duty internal combustion engine is a concept which can run on a number of different fuels, including hydrogen and biogas.
When the trials commenced, David Johnson, CEO of Westport Fuel Systems, said it marked the first ever HPDI to operate on hydrogen, and it demonstrated the inherent versatility of the company's HPDI system to utilise a range of gaseous fuels and provide a long-term carbon-reduction strategy.
Continue reading here.